Saudi Arabia Unveils High-speed Mecca-Medina Train
September 25, 2018
A high-speed rail link will soon connect Islam's two holiest cities. The 280-mile railway connecting Mecca and Medina is a part of Saudi Arabia's ongoing effort to move away from dependence on oil exports. King Salman's government expects that the Haramain railway will serve nearly 60 million passengers a year. Among the non-oil revenue strategies that the country has pursued is tourism. One prime group of people that the government is targeting with the opening of the new railway is pilgrims embarking on the Hajj.
New Zealand's 3-month-old 'First Baby' Attends U.N.
September 25, 2018

In attendance while her mother addressed the United Nations peace summit was Neve Te Aroha, the youngest every attendee at a U.N. event. Neve, who is 3 months old, had her own security badge and was accompanied by her mother, New Zealand Prime Minister Jacinda Ardern, and father, Clarke Gayford. Ardern, at 38 her country's youngest prime minister, addressed the peace summit, which was preceded by the unveiling of a statue of famed South African leader Nelson Mandela. Ardern paid tribute to Mandela and his struggle for equality and also reaffirmed New Zealand's commitment of fighting for the values that Mandela espoused. Both Gayford and Neve listened intently during the speech.
2nd Century B.C. Tomb Wall Painting Restored
September 25, 2018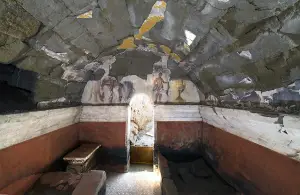 Archaeologists in Italy have restored a ancient painted burial chamber enough for public viewing. The chamber, found in the remains of the famous Greek settlement Cumae, dates to the 2nd Century B.C. Most of the painting on the walls has deteriorated over time. Among the things still visible on the walls are landscape scenes and a servant holding a jug and vase. Also surviving are a wooden table and a wine amphora. Because of the presence of those things and of other traces of funerary furnishings, archaeologists have concluded that the tomb was built for a wealthy person in the 2nd Century B.C.
Huge Building, Roman Bath Found at Egypt's Ancient Memphis Site
September 25, 2018

Archaeologists in Egypt have found a very large building and a connected Roman-era structure in what was once the capital, Memphis. Limestone blocks and red brick molds formed the foundation of the 55-foot-by-47-foot building. Discovered so far have been walls, two entrances, an inner staircase, and a room attached to an outer wall that contained a baking oven and was probably used by servants, archaeologists said. The ruins are near an open-air museum in the town of Mit Rahina, 12 miles south of Cairo. Connected to the building was a Roman bath and a chamber that appeared to have been used for religious rituals. Found in that chamber were a carved basin, wash basins and a limestone pot holder.
Girl, 8, Throws First Pitch at All Major League Baseball Parks
September 19, 2018

Hailey Dawson, at 8 years old, has done something that no one else has done: She has thrown out the first pitch at every Major League Baseball park. She did it using a prosthetic hand. She completed her journey on September 16 in Los Angeles, at the home of the Angels. It was stop number 30. Hailey was born in Nevada in 2010 with Poland syndrome, a genetic condition that stops development of muscles on one side of the body. Hailey was born without a right pectoral muscle and with only two fingers on her right hand: thumb and little finger. Hailey's mother, Yong Dawson, got in touch with engineers at the University of Nevada, Las Vegas, who used a 3D printer to generate a robotic hand for Hailey.
High School Replaces Homecoming Queen with Excellence Award
September 23, 2018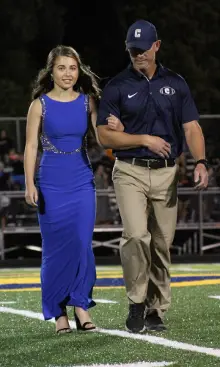 A Michigan high school had its annual homecoming celebration, without crowning a homecoming queen. Instead, the school named winners of an Excellence Award. Chelsea (Mich.) High School said that it had made the move to counter the stereotypes that it said accompanied the naming of a homecoming queen. In particular, school officials said that they were keen to address issues of bullying in the choosing of the homecoming queen. The change at Chelsea High School follows on from WhyYouMatter, a 2016 campaign started at the school in the wake of the deaths of three students in less than a year. That campaign, in its second year, challenges students and teachers to work together to photograph every student and every teacher in the school, turning the photos into posters that also include each person's saying why they matter.
Homecoming in America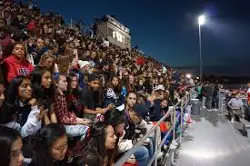 Homecoming is an autumnal tradition of celebration of school spirit at American high schools and colleges and universities. A focal point of such celebrations is usually a sporting contest, most prominently a football game. Some sources say that the first homecoming at an American university was in 1911, at the University of Missouri. The University of Illinois says that its first homecoming event was in 1910, a year before Missouri's. Baylor University had a Good Will Week in 1909 that culminated in a crowd of 5,000 cheering on the Baylor team to a 6–3 victory over against rival Texas Christian University. Other American schools, including Northern Illinois University and Southwestern University, can make similar claims. Regardless of who was first, the idea of having alumni be part of the crowd at a football game against a traditional rival spread across the country, just as the popularity of football grew. In the 1930s, some schools began adding the idea of a homecoming court, with a king and a queen and, in some cases, attendants. The homecoming "royalty" would ride in a float in the homecoming parade, which usually featured the school's band and, in some cases, local elected officials and businesspeople sometimes even a famous face or two.
Mandela Statue Unveiling Starts U.N. Peace Summit
September 24, 2018
Nelson Mandela is once again mentioned in conjunction with peace. The famous South African prisoner-turned-activist-turned-statesman-turned-author, who died in 2013, has his arms outstretched in a new life-size statue unveiled at the United Nations headquarters in New York. U.N. officials unveiled the statue in conjunction with a General Assembly peace summit. Mandela's widow, Graca Michel, and current South African President Cyril Ramaphosa spoke at the unveiling ceremony, as did Secretary General Antonio Guterres, who called on countries of the world to build on Mandela's legacy. The statue was a gift from South Africa to the U.N.
Glacier Melt? Build a Seafloor Wall, Scientists Say
September 21, 2018

A group of scientists from Finland and the U.S. has proposed building seafloor walls to prevent glaciers from melting. The idea is to lump together vertical collections of rock and sand at the base of glaciers. That strategy is in part a response to what a 2016 Jet Propulsion Laboratory study named the main reason for a faster than anticipated rate of melt in the West Antarctica ice shelf: circulation of warm water beneath the ice. The theory is that the newly placed rock-and-sand walls, termed artificial stills, would act as a sort of seafloor bulwark and be tall enough to keep the warm salty water from rising above the top of the walls.
OK Is Just Fine, New Scrabble Dictionary Says
September 24, 2018

OK, then. The two-letter equivalent of "all right" is now officially a Scrabble word. Merriam-Webster, publisher of the dictionary of acceptable words for the popular board game, recently released its sixth edition, adding a number of words. Among the additions were these:
arancini
bestie
emoji
ew
facepalm
macaron
OK
zomboid.