---
The Temple Complex of Angkor Wat
Share This Page

---
Follow This Site

---
The Angkor Wat complex, the world's largest religious monument, has as its main features a 213-foot-tall central tower and four surrounding smaller towers, enclosed by a number of walls and a surrounding moat. Inside the walls and the moat, a number of stairways link courtyards, porches, and chambers.
Artworks featuring dancing people, prancing animals, and other non-religious images dot the walls of the towers and of covered galleries, and statues of humans and animals can be found throughout the complex. A pair of large gates are known as "elephant gates" because they would have been large enough for such animals to travel through unimpeded.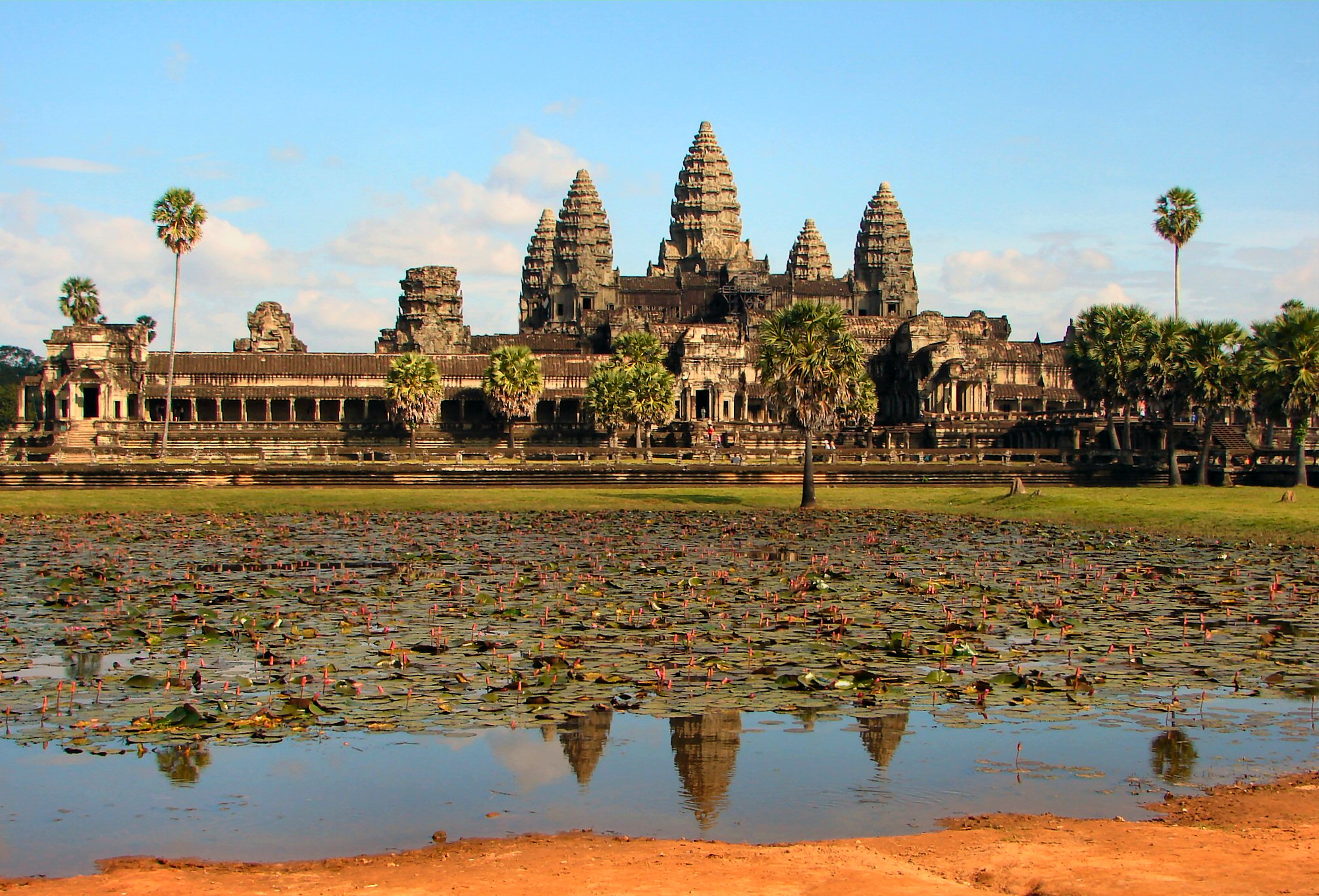 The layout of the 162.6-hectare complex overall is, historians say, designed to match Hindu cosmology. The most cited reason for the complex's being built is that the Khmer King Suryavarman II wanted it to be a temple to the god Vishnu. A statue of Vishnu known as Ta Reach still stands under the southern tower. Preserved on the walls of various parts of Angkor Wat are large-scale artworks showing scenes from Hindu epics.
The temple itself is oriented to the west, unlike other Khmer temples, which orient to the east. The presence of religious artwork presented in a direction to the reverse of other Khmer temples has led several historians to conclude that Suryavarman envisioned Angkor Wat as his funerary temple, to face the setting sun. Other historians, however, have pointed out that the god Vishnu is associated with the west, so the orientation could have been set out with the god, not the king, in mind.
Sandstone makes up the majority of the existing remains of the once-massive complex. The sandstone came from Mount Kulen, a quarry about 25 miles away. Japanese scientists in 2012 discovered remains of a canal connecting the quarry and the temple complex and suggested that the medieval Khmer workers used this canal to transport the sandstone.
The complex, 3.4 miles north of what is now Siem Reap, functioned as the king's state temple and capital for a time. The Khmer Empire's familiar enemies the Chams sacked the temple complex in 1177, and a later king moved the empire's capital a few miles north to a new temple, Angkor Thom, near Bayon.
Angkor Wat was in use for a time after that, then functioned mainly as a Buddhist temple, with corresponding statues of the Buddha. The encroaching jungle increasingly took over more and more of the area.
A French naturalist's visit in the mid-19th Century and subsequent publication of his travelogue brought renewed focus to the temple complex. Several restoration efforts took place in the 20th Century. UNESCO named the site a World Heritage site in 1992.