---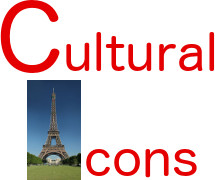 Learn more about the landmarks, places, and people who define a culture, society, or land.
---
Angkor Wat
The Angkor Wat complex, the world's largest religious monument, has as its main features a 213-foot-tall central tower and four surrounding smaller towers, enclosed by a number of walls and a surrounding moat.
The Brooklyn Bridge
The Brooklyn Bridge, still one of the world's longest suspension bridges, opened to the public on May 24, 1883.
The Eiffel Tower
The Eiffel Tower was once criticized for its design. It is now, and has been for some time, one of the most recognized and visited structures in the world.
Versailles
The opulent palace and grounds were the seat of government and playground of French monarchs for many years. Now, annual visitors top 3 million.
The Golden Gate Bridge
The Golden Gate Bridge, one of the world's most recognizable landmarks, is the result of determination and complicated mathematics. It took four years to build and cost $27 million.
The Leaning Tower of Pisa
The Leaning Tower of Pisa didn't begin its existence at an angle, but it has remained that way for hundreds of years.
Petra
The most famous image from the ancient settlement at Petra is the Treasury Building. However, Petra has more to offer the tourist and archaeologist alike.
Route 66
Route 66 is an iconic east-west highway that connects Chicago to Santa Monica, Calif., and traces the development of the United States.
The Statue of Liberty
The Statue of Liberty is one of the world's most enduring symbols of democracy and freedom. This article gives more details and facts about the statue known as Lady Liberty.
The Taj Mahal
The Taj Mahal is a group of buildings near Agra, India, the most famous of which is a mausoleum made of white marble.
Graphics courtesy of ArtToday