---
The Brooklyn Bridge
Share This Page

---
Follow This Site


The Brooklyn Bridge (also known as the Great East River Bridge) was the brainchild of John Roebling, a German immigrant and area businessman whose company had built other suspension bridges. He lived and worked in Pennsylvania, becoming the state engineer and overseeing the construction of canals, locks, and dams. In 1841, Roebling invented the twisted wire-rope cable. He foresaw these cables as helping support bridges. A mere six years later, he had a factory built in New Jersey to make these cables.


Roebling's presence in New Jersey and his skill in bridge-building naturally brought him to New York. A population explosion in both Manhattan and Brooklyn brought about a call for a way to link the two cities together. Roebling, naturally, thought of a bridge, across the East River. He was awarded the project, based primarily on his expertise and his plan to use the suspension cables he had invented. His dream of linking Manhattan to Brooklyn by bridge finally began to come true in 1870, when construction began.

During the next 14 years, production surged and lagged. The total cost of the project was $18 million. The number of people who died during its construction was 27. Roebling himself never lived to see his dream become a reality: He died of tetanus from a wound he suffered in an accident not long after construction began. His son, Washington, had helped his father build other bridges and subsequently took over the Brooklyn Bridge project but soon came down with caisson disease (commonly known as "the bends") and could not work anymore on the bridge. Many workers also got this disease, and some died from it. Emily Roebling, John's wife, learned engineering principles so she could keep the bridge builders on schedule and following her husband's plans. Despite all these difficulties, construction continued and was ultimately successful.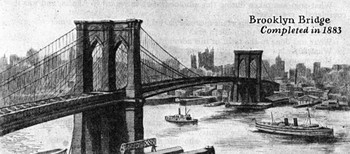 The Brooklyn Bridge finally opened to the public on May 24, 1883. It was the world's longest steel-suspension bridge. When it opened, it was the longest suspension bridge in the world.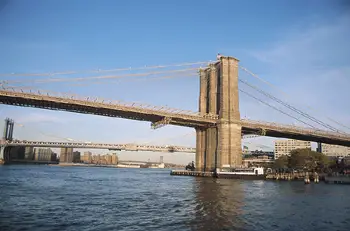 The bridge measures 6,016 feet. It has four suspension cables, each more than 3,500 feet long and more than 15 inches round. It has six lanes for motor traffic and a separate level for bicycles and pedestrians. Two of the motor-traffic lanes were once used for trains.
Graphics courtesy of ClipArt.com