Computer Science Education, One Hour at a Time
December 5, 2016

It's Computer Science Education Week, time for the Hour of Code. This year, youngsters in more than 180 countries will take part in a worldwide drive to encourage more people to get interested in computer science, by delving into writing computer code. Across the world, the website Code.org has registered more than 117,000 Hour of Code events; that number is expected to grow as the week progresses. (Computer Science Education Week runs December 5–11 and is in honor of Admiral Grace Hopper, a computing pioneer.)
Washington Monument to Shut until 2019
December 3, 2016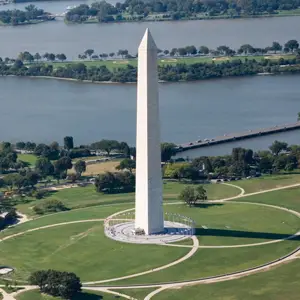 The Washington Monument will remain shut until at least 2019, according to the National Park Service. The well-known obelisk in the nation's capital has been shut since August because of ongoing problems with the internal elevator. A crack near the top of the 555-foot-tall monument appeared after a 2011 earthquake that measured 5.8 on the Richter scale, and park service officials closed the building at that time, reopening it after nearly three repairs. The ongoing shutdown will allow officials to make repairs to the electrical system, the computer system, and to other mechanical systems. The hallmark of the newly opened monument will be an entirely new elevator, so that visitors can once again rise nearly to the top and access an observation deck for panoramic views of the surrounding area.
1,000-year-old Viking Toolbox Discovered
December 3, 2016
Danish archaeologists have opened a toolbox for the first time in 1,000 years. The dig team, from the Danish Castle Center in Vordingborg, found the tools in a gatehouse at Borgring, a ring-shaped fortress on Zealand, the country's most populated island. The 14 iron tools were originally in a wooden chest, but the wood has nearly disintegrated. The gatehouse itself collapsed in the 10th Century. The tools are heavily rusted, but archaeologists have been able to discern that they found large drills used to carve holes in timber, a set of pliers, a kind of nail used to join wooden planks, an iron draw plate, and several chain links that are attached to an iron ring. The working theory is that a craftsman had his workroom inside the gatehouse.

The British Isles after Rome

After painstakingly conquering much of the British Isles and then making it over in significant regard, the Romans left, in 407. It was still Roman Britain, but the Romans were no longer in Britain. The Picts and Scots saw this, and took advantage. Not satisfied with poking their noses across Hadrian's Wall, they mounted a full-scale invasion and drove the Britons far, far back to the south. In a panic, the Britons appealed to Rome. This appeal had been turned down the first time around, in 410, when the Western Roman Emperor had admonished the Britons to fight their own battles; but the Britons lived in hope and so tried again.
---
December: 31 Days of Fun and Celebration
It's Christmas and Hanukkah and Advent and Boxing Day and Santa and the reindeer and carols and much more, all rolled up into one.