Thousands Remember Mandela at Rain-soaked Memorial
December 10, 2013
Nelson Mandela's memorial service was a rainy one, but South Africans considered that a blessing. The four-hour memorial service in Johannesburg featured more than 70 current or former world leaders, more than at any such service since the death of Pope John Paul II, in 2005. The memorial took place in Soweto's FNB Stadium, known as Soccer City, site of the 2010 Soccer World Cup and Mandela's first post-prison speech and of his final public appearance. The 95,000-capacity stadium featured some empty seats, possibly because of the wet weather. Still, thousands waited in long lines in the pouring rain to pay tribute to the man who more than any other symbolized South Africa's struggle-turned-togetherness during the past several decades.
Shakespeare 'Bible' Inspired Mandela, Others
December 10, 2013

William Shakespeare inspired Nelson Mandela in prison. Mandela, the iconic imprisoned apartheid foe who became South Africa's first black president, was one of a few dozen men imprisoned on Robben Island who shared the "Bible" of fellow prisoner Sonny Venkatrathnam. The "Bible" was, in reality, Shakespeare's complete works.
Mandela Quotes Speak Volumes
December 10, 2013
Nelson Mandela died on December 5, 2013. South Africa's first black president, he was a longtime opponent of apartheid, his country's onetime racially divided governmental and political structure. Long a leader on the world stage, before, during, and after his imprisonment, Mandela was an inspiration to a great many people, for his actions, and for his words. Below are a few of his more famous quotes:
Statue of King Tut's Sister Recovered
December 8, 2013

Most of the more than 1,000 artifacts stolen from a Mallawi art museum have been recovered, including a statue of a sister of famed King Tut. The Egyptian Government confirmed that the statue of Ankhesenamen, whose father was Akhenaten and whose brother was Tutankhamen, was back in government possession, intact. Looters ravaged the museum; of the 1,050 artifacts taken that day, governmental authorities have recovered 800. The statue is 12.6 inches tall and made of limestone. Museum officials say that it is priceless.
Egyptian Police Stage Demonstration for Pay Rise
December 8, 2013
Egyptian police, well aware of the country's new protest law, staged their own demonstration to call for higher wages. About 200 non-commissioned officers marched in the peaceful demonstration, which had the required permission. The protest began as a gathering at a Police Club in Cairo and then became a march to the Interior Ministry. Technically, the permission was just for the club gathering, not for the march.
Jesse Owens Gold Medal Sells for $1.4 Million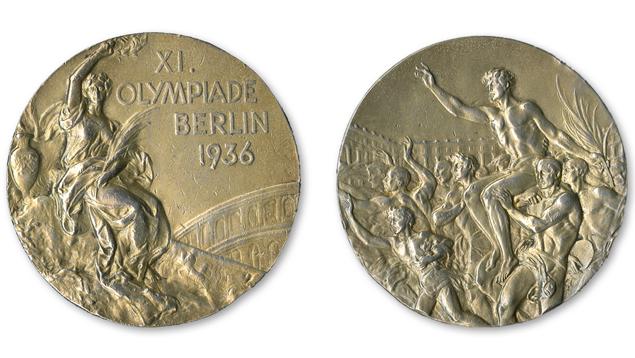 December 8, 2013
Jesse Owens has set another record, this time in an online auction.An Olympic Gold Medal won by the famous athlete in the 1936 Berlin Olympics has earned $1.4 million, the most ever for a piece of Olympic memorabilia. Owens won gold in the 100-meter dash, 200-meter dash, 400-meter running relay, and long jump.
Russia Promises Big Bonus to Olympic Medal-winners
December 8, 2013
Russian athletes who win gold medals at the Sochi Olympics will take home large cash prizes as well, the Russian Government has announced. President Vladimir Putin has approved payouts of the equivalent of $122,000 for each gold medal won, with silver medalists getting $76,000 and bronze medalists taking home $46,000. At the 2010 Winter Olympics, in Vancouver, Russian athletes won 15 medals, three of them gold. Both totals were well back of medal-count leaders the U.S., with 37, and Canada, with 14 gold.
Nelson Mandela Dies at 95
December 6, 2013
Nelson Mandela, a symbol of hope and political promise for so many people for so long, has died at his home in Johannesburg. He was 95. Mandela, imprisoned for decades for daring to speak out and urge action, sometimes violent, against the apartheid system of government in South Africa, made history when he became his country's black president, in 1994. The recipient of the Nobel Peace Prize and many other accolades, Mandela was a beacon of freedom for oppressed peoples in his own country and elsewhere. His health had declared markedly in the past few years, and he was near death early in 2013. His family was at his side at the last.
Rockwell Painting Sets Auction Record at $46 Million
December 5, 2013
At $46 million, a Norman Rockwell painting has set a record for a painting sold at an American art auction. Rockwell crafted the painting, "Saying Grace," in 1951, and it appeared on the cover of the Saturday Evening Post, for which Rockwell worked for many years. Jarvis, Rockwell's son, was one of the models for the painting. The winning buyer eclipsed another telephone bidder, who relented only after nine minutes of back-and-forth. The identity of neither buyer was known.
Norman Rockwell: Iconic American Painter
Norman Rockwell created some of America's most iconic art works in a long 20th-Century career. The creator of more than 4,000 art works, he is most known for his paintings that graced the cover of the Saturday Evening Post for 47 years.