Park Avenue Apartments Tower above the Hemisphere
October 19, 2014

If you are planning your home address to be 432 Park Avenue in New York City, you will be living in the tallest residential building in the Western Hemisphere. At 1,396 feet tall, it is taller than the Empire State Building (by 144 feet) and the Statue of Liberty (by a lot more, 1,089 feet). The $1.3 billion tower has 96 storeys and is the second-tallest building in the city, trailing only One World Trade Center.
N.Y. Serves Up Yogurt as State Snack
October 19, 2014
Yogurt is now the official snack of New York State. Gov. Andrew Cuomo signed into law a bill that emphasized the state's status as the production leader of the dairy food. Estimates are that New York produced 741 million pounds of yogurt in 2013 alone, accounting for 16 percent of the nation's total. (California produced the second-most, at 591 million pounds.) Cuomo signed the bill to coincide with the second New York State Yogurt Summit, in Ithaca. The first such summit took place in 2012. The idea for the bill came from a fourth-grade class at Byron-Bergen Elementary School, in Bergen, N.Y. Students traveled to the state Capitol, in Albany, earlier this year to support the bill.
The History of Halloween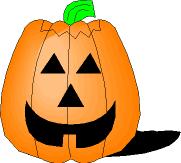 Where does Halloween come from anyway? Where do Americans get those ideas about jack-o-lanterns and "trick-or-treating?

The Story of the Jack-O-Lantern
Who was Jack? Why did he have a lantern? Why are pumpkins carved with goofy faces? This fun articles tells you the story behind the story.

The First Trick-Or-Treaters
Trick-Or-Treating hasn't been around forever. Find out where it started and why it's still popular.
Erie Canal Opens for Business

How the Erie Canal was created and financed is the story of one man's desire and many people's skepticism. That one man was New York Gov. DeWitt Clinton, who had the foresight to envision a waterway that would link his state's main port, New York City, with the fertile plains of the Midwest, enabling trade between the nation's hinterlands and the other countries of the world. His opponents called the Erie Canal "Clinton's Folly," but Clinton had the last laugh, as the Canal became one of the nation's busiest waterways and most enduring symbols of rising industrial might.
The Mason-Dixon Line
The Mason-Dixon Line started as an argument and ended up settling many other arguments.

To head off big trouble, a pair of Englishmen named Charles Mason, an astronomer and mathematician, and Jeremiah Dixon, a mathematician and surveyor, set out to have the last word on the subject.
Custom Search
Social Studies
for Kids
copyright 2002-2014,
David White
---