Confederate General 'Stonewall' Jackson
---
Share This Page

---
Follow This Site


Thomas "Stonewall" Jackson was a highly successful Confederate general during the American Civil War. A brilliant tactician, he scored several well-known victories over numerically superior Union armies during this three years of combat.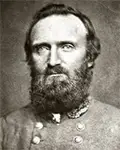 He was born Thomas Jackson on Jan. 21, 1824, in Clarksburg, Va. Two years later, his father and Elizabeth, his older sister, died from typhoid fever. Thomas had three other siblings, and their mother found it difficult enough to provide for her children that she married again, to Blake Woodson in 1830. The children did not get along with their stepfather and were sent to live with uncles in Jackson's Mill, in western Virginia.
Young Thomas finished his schooling and then, in 1842, enrolled in the U.S. Military Academy. He graduated four years later and went straight into action, fighting in the Mexican-American War at Veracruz, Contreras, Chapultepec, and Mexico City; he served under Gen. Winfield Scott. He continued in a military capacity after the war, serving in Florida and in New York, then resigned his commission in 1851 in order to take up a position as professor of natural and experimental philosophy at the Virginia Military Institute (VMI). His lectures covered artillery tactics and scientific subjects such as astronomy and acoustics. He was a devout Christian born into a slaveholding family; nonetheless, he organized Sunday School classes for African-Americans at his local church. A hypochondriac who also suffered from arthritis, he exhibited strange behavior at times and developed a reputation for being quirky. He ate and slept rarely.
Jackson married Elinor Junkin in 1853. She died in childbirth the following year. A second marriage, to Mary Anna Morrison in 1857, produced a daughter two years later; that child lived just a few weeks. Their second daughter, born in 1862, lived a long life.
When Virginia seceded from the Union in 1861, Jackson chose to fight for the Confederacy. He headed up the VMI Corps of Cadets and gained promotions to brigadier commander and then brigadier general.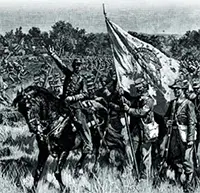 Jackson gained his famous nickname at the First Battle of Bull Run/Manassas. One of the colonels commanding troops for the Confederacy that day was Gen. Thomas Jackson. He was on Henry House Hill and held off attack after attack by the Union troops. Another commander, Barnard Bee, saw how Jackson, sitting atop his horse, appeared unperturbed at the chaos whirling around him. Hoping to rally his men, Bee shouted at them, "There stands Jackson like a stone wall! Rally behind the Virginians!" Jackson thereafter was known as Stonewall Jackson. It was Jackson's men as well who were the first to utter the high-pitched screams that came to be known as the Rebel Yell.
Promoted to major general, Jackson spent the spring of 1862 conducting the Shenandoah Valley campaign, scoring a handful of victories over a much higher number of Union troops. Jackson and his men moved so quickly that he dubbed them "foot cavalry." He later reported to Gen. Robert E. Lee and played a part in defending against the Peninsula Campaign of the Union's Gen. George McClellan. Jackson and his men fought in the Battle of the 7 Days and, after the Union army retreated, led his men to victory at the Second Battle of Bull Run.
Jackson oversaw a surprising Confederate takeover of the federal arsenal at Harpers Ferry and then led his men in a desperate defense during the Battle of Antietam. He was named lieutenant general just before leading the second corps of the Army of the Northern Virginia during the resounding Confederate victory at Fredericksburg and then scored a decisive rout of a large Union force at Chancellorsville. It was during this battle that he suffered what would prove to be a fatal wounding.
He accompanied a patrol on the night of May 2, 1863, after fighting had stopped, in hopes of determining the efficacy of conducting a nighttime raid on the tired Union troops. He was returning to his camp when a group of Confederate soldiers, thinking him a Union soldier, fired on him. He was shot twice in his left arm and once in his right hand. Doctors amputated his left arm; during the surgery, he developed pneumonia that, on May 10, killed him.