John Young: Moonwalker, Space Shuttle Commander
---
Share This Page

---
Follow This Site


John Young was a former Navy pilot and astronaut who walked on the Moon and was the only person to go into space during in a Gemini capsule, an Apollo space craft, and a Space Shuttle.
He was born in San Francisco on Sept. 24, 1930. As a young boy, his favorite hobbies were building model airplanes and reading. He once said that he had read the encyclopedia when he was 5.
His family moved to Georgia and then Florida, and he attended schools in Orlando, graduating from Orlando High School in 1948. Continuing his school at the Georgia Institute of Technology, he graduated in 1952 with a bachelor of science degree in aeronautical engineering.
Young joined the U.S. Navy in 1952 as part of the Reserved Officers Training Corps (ROTC). He served aboard a destroyer in the Sea of Japan during the latter stages of the Korean War. He completed flight training, became a helicopter pilot, and earned his aviator wings, the latter in late 1954. He flew jets from aircraft carriers for four years, then enrolled at the Naval Test Pilot School. He began his three years of training at the Patuxent River, Md., Naval Air Station in 1959.
In 1962, the National Aeronautics and Space Administration named Young to Astronaut Group 2. He flew aboard two missions during Project Gemini, flying with Gus Grissom on Gemini 3 in 1965 and the following year with Michael Collins aboard Gemini 10.
Gemini 3 was notable for Young's smuggling aboard a corned beef sandwich, for which he was reprimanded by NASA and by Congress. NASA was more worried about the crumbs floating free in the space capsule; Congress was more worried about the money. The mission had as one of its goals the testing of how astronauts would eat in space, and Young decided to bring his own food. NASA then-Administrator George Mueller was called before a Congressional committee explain why Young had ignored all of the expensive space food that the federal but had paid for. Among the promises that Mueller made to Congress was this: "We have taken steps…to prevent recurrence of corned beef sandwiches in future flights."
Young was named to the backup crew of Apollo 1 and was reassigned to Apollo 10. As Command Module Pilot on this mission, he became the first person to orbit the Moon alone, as his crewmates, Gene Cernan and Thomas Stafford flew the Lunar Module around the Moon for the first time.
After serving as backup commander for Apollo 13, he was Commander of Apollo 16, in 1972.
As did the Apollo 15 crew, Young and Lunar Module Pilot Charlie Duke undertook extensive geological training, including field trips to various rock formations in New Mexico and in Canada.

Launch date was April 16, 1972. The crew entered lunar orbit three days later. Young and Duke touched down in the Descartes region of the central lunar highlands on April 20 and stepped out in that order. They had landed later than planned because of a slight malfunction in the Command Service Module. That delay would result in less time on the Moon and a return home a day earlier than planned.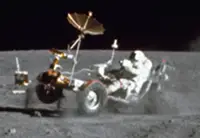 The Lunar Roving Vehicle, unveiled on Apollo 15, again featured in the extravehicular activity (EVA) of the astronauts, allowing them to range farther from the spacecraft than ever before. They covered nearly 17 miles, exploring several craters, taking pictures, recording data, and taking samples of both dust and rocks. They returned with the largest Moon rock of them all, named Big Muley. They did three EVAs in all. On the third day, they did close observation of a giant rock that they named House Rock, proving that it was a breccia (meaning made of a collection of minerals), not the result of a volcanic eruption.
Young and Duke also did a few athletic experiments, including jumping to see how much higher they could get in the Moon's gravity, which was less than the Earth's.
Among the upgrades on this mission were a mechanism to fix the TV camera aiming problems experienced by the Apollo 15 crew and an ultraviolet stellar camera to take pictures of the Earth and sky and capturing views not visible to the naked eye.
One disappointment came when Young, in the midst of setting up a heat flow experiment, got one of his boots tangled up in the cable and pulled it out of the machine. The experiment could not go ahead. Many other experiments did, including one to measure the Moon's magnetic field
Young and Duke spent 71 hours on the surface of the Moon; more than 20 of those were outside the Lunar Module. They returned to Earth safely, on April 27. Young's final Apollo assignment was as backup commander on Apollo 17.
NASA in 1973 named Young head of the Space Shuttle Branch of the Astronaut Office. He took over as Chief of the entire Astronaut Office the following year, when Alan Shepard retired.
Young (left, left) was the Commander of the maiden Space Shuttle mission, when Columbia, piloted by Robert Crippen (left, right), launched on April 12, 1981. Young also commanded the ninth Space Shuttle mission, a 1983 launch that included in the payload the first Spacelab module.
He retired from NASA in 2004. In 2012, he published an autobiography titled Forever Young. He was married twice and had two children.
John Young died on Jan. 5, 2018, in Houston. He was 87. He had logged more than 24,000 hours in aircraft and more than 830 hours in space.