Gene Cernan: Last Man on the Moon
---
Share This Page

---
Follow This Site


Gene Cernan was a former navy pilot and astronaut. The Commander of Apollo 17, he was the last person to walk on the Moon.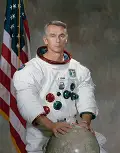 He was born March 14, 1934, in Chicago. He grew in Bellwood and Maywood and graduated from the latter's Proviso East High School in 1952. He went on to Purdue University, interrupting his studies for a one-year Navy Reserved Officer Training Corps (ROTC) assignment on a ship before graduating with a bachelor of science degree in electrical engineering in 1956.
He did his flight training at a series of air field and air stations and flew jets. In all, he logged more than 5,000 hours of flying time. He got a master of science degree in aeronautical engineering from the Naval Postgraduate School in 1963.
The National Aeronautics and Space Administration (NASA) named Cernan as one of the astronauts to participate in Project Gemini. He was backup pilot for Gemini 9 and then was on the primary crew for Gemini 9a, performing a spacewalk. For the last Gemini flight, Gemini 12, he was the backup pilot.
Joining the Apollo program, he served as Lunar Module Pilot on Apollo 10, the mission that did everything but land on the Moon. Holding out for his own command, he took a risk by turning down the role of Lunar Module Pilot on Apollo 16. He was named Commander of Apollo 17, however, and blasted off on that mission on Dec. 7, 1972.
As did the Apollo 15 and Apollo 16 crews, Cernan, Evans, and Schmitt had undertaken extensive geological training, including field trips to various rock formations in Canada. Schmitt was a professional geologist
The Lunar Module landed in the Taurus-Littrow valley, somewhere no previous crew had been. Cernan was the first to set foot on the surface; Schmitt followed.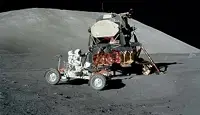 As before, the lunar surface crew took samples of lunar dust and rocks. They also set up scientific instruments. One of the most high-profile instruments was the Traverse Gravimeter Experiment (TGE). The astronauts took gravity measurements at their landing site and at several other points in their travels. (They had use of the Rover vehicle, as had their two predecessors.) The focus of the data back on Earth would be geology.
The astronauts performed three EVAs in all. When it was time to leave, they reversed their order; thus, Cernan was the last to walk on the Moon. Just before he stepped back inside, he traced his daughter's initials (TDC) in the lunar dust.
Their rendezvous with Evans in the Command Module proceeded without incident, as did the return to Earth, during which Evans conducted a 67-minute EVA to recover film in an exterior camera. They splashed down on December 19.
Cernan retired from the Navy and from NASA in 1976, transitioning into the private sector, first as an executive with a petroleum company and then at the head of his own company, the Cernan Corporation. He was involved in various media efforts in the late 1980s and 1990s, contributing to the ABC News morning show Good Morning America and appearing as a commentator for early Space Shuttle flights. In 1999, he published his memoir, The Last Man on the Moon; he appeared in a documentary based on that book in 2014.
He was married twice and had a daughter and two step-daughters. He died on Jan. 16, 2017, in Houston. He was 82.