---
Trump Delivers Farewell Address, Leaves Washington
On This Site
Share This Page

---
Follow This Site


January 20, 2021
Donald Trump departed the White House early on the day of his successor's inauguration, choosing not to partake in the transfer of power. Trump and his wife, Melania, boarded Air Force One bound for Florida.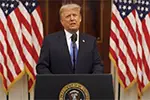 Before he left, Trump gave a farewell address, in which he thanked the American people, saying, that serving as President "had been an honor beyond description." Trump echoed themes that he had used throughout his presidency: standing up for the forgotten man and woman, restoring belief in the country's potential, and maintaining security. He gave credit to his supporters and thanked them for creating a sustained political movement. Among the accomplishments that he highlighted were the 2017 Tax Cuts & Jobs Act and a new trade deal with China. He mentioned the coronavirus sparingly.
He did not attend the inauguration of his successor, Joe Biden, becoming only the fourth President ever to do so and the first in more than a century. He did, however, honor one presidential tradition: He left a private note for Biden, as outgoing Presidents have done for many, many years.
Trump faces an uncertain future. He recently became the only President in U.S. history to be impeached twice. He still faces a trial in the Senate on a charge of inciting violence, in connection with a mob's storming the Capitol on January 6. He still has a great amount of support among Republicans throughout the country. He has hinted that he is not done with politics.