---
Current Events
118 Countries Pledge to Triple Renewable Energy
December 8, 2023

A full 118 countries have signed on to a plan to triple the world's renewable energy capacity by 2030, said organizers at the COP28 summit in Dubai. Among those so pledging are some of the world's largest users of nonrenewable energy, including Australia, Brazil, Canada, the European Union, Japan, the United Arab Emirates, and the United States. Representatives from a few of those countries appealed for the agreement to be included in the summit's final overall statement. Such a commitment would need to coincide with a drop in costs for the transition to renewable energy, something that the industry has struggled with in recent months. Accompanying that pledge was a declaration signed by nearly two dozen countries that aims to triple nuclear power capacity by 2050–all in a drive to decrease the dependence on coal and on other fuels that elicit greenhouse gas emissions that are warming global temperatures to what many say are worrying rates.
Teen Refurbishes LEGO Bricks, Sends Them to Needy Kids
December 4, 2023

It's paying it forward, LEGO-style. Charlie Jeffers, a high school student in California, specializes in getting LEGO bricks into the hands of those who don't normally have access to them. Jeffers, who is a senior this year at Marin County's Redwood High School, is the founder of Pass the Bricks, a charity that has a goal of taking LEGO bricks, washing them and sorting them and creating new sets with them, and then getting those new sets to children who can't afford them or have no other way to buy them. And Pass the Bricks doesn't charge the recipients for the deliveries. It's not all standard issue, either. Jeffers is plugged in to the kids scene, having been one himself very recently. One of his signature sets is the Droid Escape Pod, a down-to-the-colors recreation of the spaceship used by R2-D2 in the first few minutes of the very first Star Wars film.
U.N. Climate Summit Opens in Dubai
November 30, 2023

Representatives from countries around the world are meeting in Dubai for COP28, the United Nations' annual climate summit, which this year runs until December 12. The summit will feature a large number of high-level meetings, press conferences, and negotiation sessions, featuring more than 100 heads of state and government and more than 45,000 participants overall. Dubai is in the United Arab Emirates, which is the host country for the events. The host nation gets the honor of naming a president for the COP talks, and the person so named for this year is Sultan al-Jaber, chief executive of the Abu Dhabi National Oil Company and the UAE's Minister of Industry and Advanced Technology. He is also the founding CEO of Masdar, the UAE's renewable energy vehicle.Climate officials have repeatedly warned that world temperatures are rising too quickly and, as a result, catastrophically. The nations that signed the Paris Agreement in 2015 set a target of a 1.5°C rise by 2100. Current estimates are that that number will actually be 2.4°C or even 2.7°C by the end of the century.
Railway Station Cat a Hit with Commuters, Eyes Hit Single
November 29, 2023

First it was going viral at a busy railway station. Now, it's a Christmas song. It's all in a busy life for English cat Nala, a ginger who's having quite a life these days. Nala, who is 4, began sitting on ticket barriers at Stevenage Railway Station, as if to greet the many customers going to and from the Hertfordshire town and London and various other destinations. (Stevenage is 27 miles north of London, and its railway station is on the East Coast Main Line.) It wasn't long before commuters began taking her picture and posting it online. Nala's owner, Natasha Ambler, set up a Facebook group to collect such photos. (For the record, Natasha and Nala live close to the station, and Natasha is quite happy for Nala to go to the station whenever she wants, which is usually once in the morning and once in the evening, both times at commuter rush hour.) Nala wears a collar with Natasha's phone number on it, and Natasha said that when photos of Nala went viral she would receive dozens of calls a day, so much so that she fitted Nala with a second collar explaining that Nala is not lost but is there at the station with her owner's blessing. Now, Nala has recorded a Christmas song, written by Joe Killington and Danny Kirsch. Nala also sings in the song, which is titled "Meow." The song has been released to the public, and all proceeds will be donated to the RSPCA and Feed Up Warm Up, a Stevenage homeless charity.
More New Entrants into National Toy Hall of Fame
November 27, 2023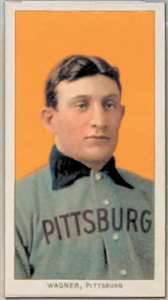 Baseball Cards, Cabbage Patch Kids, the Fisher-Price Corn Popper, and Nerf Toys are the latest entrants into the National Toy Hall of Fame. Baseball cards date nearly to the beginning of the national pastime, to the mid-19th Century. Xavier Roberts, Martha Nelson, and Debbie Moorehead feature in the creation of Cabbage Patch Kids, which were first mass-produced by Coleco in 1982. The plastic-headed dolls wearing various sets of clothes and shoes were world famous, partly because each came with a birth certificate and adoption papers and some of them talked. The Corn Popper from Fisher-Price arrived in the 1950s, the brainchild of inventor Arthur Holt, who envisioned it as a means to help children learn to walk. He sold his design to Fisher-Price in 1957 for all of $50. The company has sold a great deal of the toys since then, a variety of colors and styles. The inspiration for Nerf toys, according to their creator, Reyn Guyer, was something he saw on television–characters on The Flintstones throwing rocks. Guyer's idea was to make the projectiles out of foam, so as not to hurt anyone. He offered the idea to Parker Brothers, who took the idea and ran with it. Soon, Nerf balls of various colors and sizes were everywhere. Also popular have been Nerf footballs and Nerf bows and arrows.
Guitar-playing Kangaroo Wins Top Photo Award
November 26, 2023

It's a Down Under jam. Jason Moore, a photographer from Australia, has won the top award in the Comedy Wildlife Photographer of the Year competition, for a photo he took of a kangaroo that looks like it's playing air guitar. Moore was visiting an area outside Perth, in Western Australia, when he saw a group of kangaroos playing, and some were responding to music. He snapped the award-winning photo and titled it "Air Guitar Roo." The competition, founded by Paul Joynson-Hicks and Tom Sullam, dates to 2015. It is free to enter, and the winner this year, Moore, won a safari in Kenya, a camera bag, and a trophy. Moore's was one of 5,300 entries from 85 countries. Contest rules allow contestants to enter up to 10 images and two videos.
China's Flying Taxi Gets Airworthiness Certificate
October 30, 2023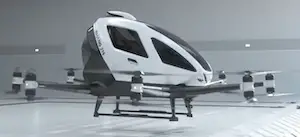 Air taxis have been "the next thing" for a few years now, but China has the first official permission to deliver them. Ehang is the name of the Chinese company that has the world's first airworthiness certification for an air taxi. It's EH216-S, it runs on electricity, and it can carry 600 pounds in all on a journey of up to 18 miles. Who's flying the taxi? No one. The air taxi is autonomous, its 16 electric rotors powering the flight at the direction of a computerized command and control center at speed up to 80 miles per hours. Passengers imply climb onboard, pick a destination on a touchscreen, and sit back for the ride. Take off is vertical, and so is landing; and so the air taxi can land on a rooftop or in a parking lot.
House Has Speaker Again, 21 Days Later,
October 26, 2023

The House of Representatives has a Speaker again. Louisiana Representative Mike Johnson won election on the floor of the House, after a chaotic 21 days without a Speaker. The House was left leaderless after a majority of those present voted to remove the previous Speaker, Kevin McCarthy. Then, no clear frontrunner emerged to succeed him. A number of men put their names forward and garnered significant support, but each failed to get the needed majority of votes when the vote came to the House floor. Those who tried but did not succeed were, in order, Steve Scalise of Louisiana, Jim Jordan of Ohio, and Tom Emmer of Minnesota. Each of those men had gained what they thought was enough support in a preliminary closed-door meeting of Republicans, who hold the majority in the House; however, each time, a full vote on the House floor resulted in a number of Yes votes that was smaller than needed. In the end, Johnson got that number.
Sisi to Run for Re-election against Several Challengers
October 5, 2023
Egyptian President Abdel Fattah al-Sisi will run for re-election in the country's election scheduled for December 10–12. A number of opposition candidates have vowed to challenge him. Sisi made the announcement at the climax of a three-day national conference of the country's leading lawmakers. Titled "Story of Homeland," it was televised on the country's Extra News channel. Sisi, 68, has been the country's leader since seizing power in a coup in 2013, displacing then-President Mohamed Morsi, who was later arrested and died in prison. Most prominent among the challengers so far is Ahmed Al-Tantawi, who was at one time a lawmaker and head of the al-Karama Party. He has spoken out against Sisi and the government in recent weeks, calling attention to the country's weakening economy, a trend exacerbated by a steep drop in demand for wheat in the wake of Russia's war with Ukraine.
House Speaker Faces Motion to Remove Him from Office
October 2, 2023
U.S. Speaker of the House Kevin McCarthy now faces an official move to remove him from his office. Bringing the "motion to vacate" was longtime McCarthy critic and fellow Republican Matt Gaetz, from Florida. The two men have clashed repeatedly this year over policy priorities, and Gaetz was angered heavily by McCarthy's support of a bipartisan deal to avoid a government shutdown. McCarthy agreed, as part of a protracted fight to claim the speakership earlier this year, to lower the minimum number of Representatives that a motion to vacate would require, from three to one. Thus, it takes just one member of the House to initiate a drive to oust the Speaker. If a simple majority of the Representatives who are in session (and a quorum has been reached) vote in favor of the motion, then the Speaker is removed from his post.
Stonehenge Altar Stone Not from Wales, Study Suggests
October 2, 2023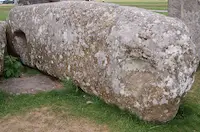 A new study suggests that Stonehenge's iconic Altar Stone might have origins different from previously thought. The current thinking is that the "bluestones" making up the inner circle of the famous stone monument came from the Preseli Hills, in the western part of Wales and that people thousands of years ago moved them from their origin point to the Wiltshire plain. That thinking is 100 years old this year and is perhaps one of the motivations for a new study of such things. New research has suggested that the Altar Stone had a home location not in western Wales but in the north, from northern England or even Scotland.
Continuing Resolution Gives Congress 45 Days to Find More Funding
October 1, 2023 The government is not shut down–for at least another 45 days. Congress approved legislation late at the end of the month, with only three hours to spare before the self-imposed deadline, to keep the government open, avoiding the chaos of snarled traffic and closed national parks that had punctuated previous shutdowns in recent years. The Republican Party, which controls the House of Representatives, had embarked on a handful of attempts to find a way forward amid dissension in its ranks. In the end, Speaker Kevin McCarthy proposed a 45-day continuing resolution that found support to the tune of 335 Representatives, including all but one Democrats (A full 90 of the 91 "no" votes came from the GOP.) The Senate then passed the bill, on a vote of 88–9 (with Republicans again providing the negatives), and President Joe Biden quickly signed it into law. The bill includes badly needed disaster relief funds, in a year of increasing damage caused by natural disasters, and a provision to reauthorize the Federal Aviation Administration. A shutdown would have meant that air traffic controllers would have had to work while not being paid and that training of new controllers and the development of new technology to aid in that training would cease. Significantly, the new bill contains no funding to support Ukraine in its war against Russia.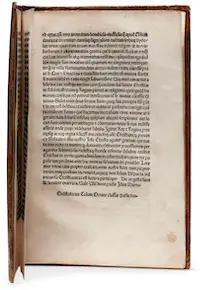 1st Columbus Letter Announcing Discoveries Up for Auction
October 1, 2023
An extremely letter written by Christopher Columbus announcing the famed explorer's discoveries in the New World is up for auction soon and expected to fetch a prime price. Columbus traversed the Atlantic Ocean a total of eight times, four westward and four eastward, exploring land in the Caribbean and South America and advancing the course of European New World exploration significantly. The letter up for auction is one that Columbus wrote in 1493 to Luis de Santangel, the royal treasurer to Spain's King Ferdinand II and Queen Isabella, who notably financed Columbus's voyages, beginning in 1492. The auction house Christie's expects a haul of at least £1.2 million for the Latin translation of the letter, which survives as the echo of one of the very early printing presses. Significantly, Columbus writes that he has "taken possession for their Highnesses" of a number of lands and possessions of the "numberless people" he found in the New World.
Trailblazer Senator Dianne Feinstein Dead at 90
September 29, 2023
Dianne Feinstein, the longest-serving woman in the U.S. Senate, has died. She was 90. She served on the San Francisco Board of Supervisors and then became the city's first female mayor, in 1978. She won election to the U.S. Senate in 1992 and won re-election in 2000, 2006, 2012, and 2018. She had already announced that she would not seek re-election in 2024. She claimed many firsts in her long tenure in the Senate:
First woman to chair the Judiciary Committee
First woman to chair the Rules Committee
First woman to chair the Select Committee on Intelligence.
Artists Render 3D Images of Ancient Aztec Capital
September 14, 2023


Bursting from a 3D computer reconstruction is Tenochtitlan, capital of the Aztec Empire, the result of a multi-year research project by a team led by a Dutch artist. A Portrait of Tenochtitlan is the latest offering from Thomas Kole, a technical artist specializing in interactive games and installations. The Tenochtitlan presentation progresses as you scroll down the screen, emphasizing the fabled city's famous grid layout, with its canals, causeways, dykes, and bridges uniting the various neighborhoods and purpose-built parts of what was once a thriving metropolis. The artist then presents a full view of the island, as it is now and as it is envisioned to have been in the 16th Century, with views of the landscape and the downtown area and even a nighttime shot so you can fully appreciate what the Aztecs might have seen.
Oldest Known Book on British Cheese (1580s) Appears Online
September 14, 2023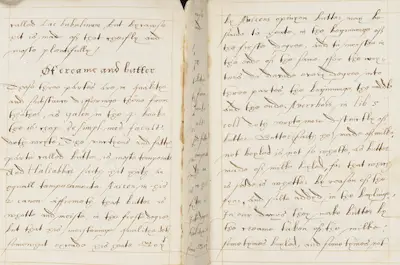 A 16th Century book about cheese is now online and in the special collection of a U.K. university library. A noted food historian places its historical value quite high, as perhaps the first book to focus on a single type of food written in the English language. The book begins with a mention of the famous ancient Greek philosopher and physician Galen (and, indeed, mentions him a few more times) and then goes on to discuss curds and whey, various definitions of cheese, and the many kinds found throughout England and Wales. Also discussed are what were thought to be various medicinal properties of cheese.
G20 Summit Ends with Declarations on War, Climate, Trade
September 11, 2023

G20 leaders agreed to a joint statement, one of the goals of host leader India's Prime Minister Narendra Modi. Significantly, the statement had much to say about several subjects but little to say about the war in Ukraine. Significantly, the statement did reference the "human suffering" caused by the war but did not mention Russia's invasion, which began the war. The joint statement did reference the United Nations charter, admonishing nations from seizing territories from other nations.On Saturday, the first day of the two-day summit, the leaders, focused on climate issues, agreed to increase the use of renewable energy threefold and to target more funds for dealing with climate-related disasters. However, the leaders stopped short of reducing the reliance on coal as an energy source. The other major announcement on Saturday was of plans to create a modern-day Spice Route, increasing trade between Europe, the Middle East, and India in the way that the ancient eurasian network Silk Road did for Europe and China. In a fundamental change, the G20 leaders agreed to accept the African Union as a permanent member, on par with the European Union, which is the G20's only non-country entity.
Host India Seeks Consensus as War Overshadows G20 Summit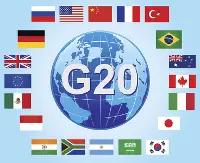 The G20, a gathering of the world's top-producing countries, is on in Delhi, India this weekend. Indian Prime Minister Narendra Modi will be the host and chairman. Modi has expressed a wish for representatives of all 20 nations to pledge to an agreement on international issues. Top of mind for most officials will be the ongoing war in Ukraine. Russian President Vladimir Putin, facing an arrest warrant on charges of international terrorism, will not be attending; Russian Foreign Minister Sergey Lavrov will represent his country at the leaders summit. As well, Chinese leader Xi Jinping will not attend, giving way to his premier, Li Qiang. (It is the first time since the G20's inception in 2008 that the head of China will not attend.) The heads of state of the other 17 member nations will attend; representing the European Union will be Ursula von der Leyen, President of the European Commission, and Charles Michel, President of the European Council. Another key issue to be pushed by Modi is expected to be debt refinancing, an area of special concern to developing nations.
4 Still-sharp Roman Swords Found in Isolated Judean Cave
September 7, 2023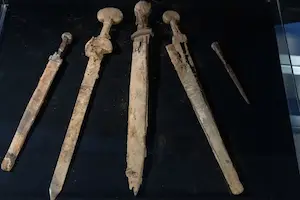 Archaeologists working in a Dead Sea cave found four perfectly preserved Roman-era swords, as sharp as they were when they were used in battle nearly 2,000 years ago. The four swords had hilts made of leather and wood and were in wooden scabbards. Experts said that the swords were of the type used by Roman soldiers who were stationed in Judea. And yet, the Israeli Antiquities Authority said that it could have been Judean rebels wielding the swords against occupying Rome, perhaps in a 1st Century B.C. uprising known as the Bar Kokhba Revolt. Under that scenario, the rebels would have hidden the swords so they wouldn't be found by Roman investigators.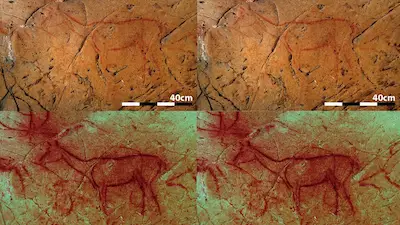 3D Photography Reveals 'Hidden' Paleolithic Cave Animal Art
September 6, 2023
Archaeologists, perhaps channeling their childhood viewing whims, have found hidden animal figures on cave walls in Spain that date back tens of thousands of years. The drawings adorn the cave of La Pasiega, which is in north-central Spain, about 260 miles from Madrid. More than 700 illustrations of animals, along with dots and lines and symbols, dot the walls of the cave, which was discovered in modernity only in 1911. Dating of the art puts it at being done more than 40,000 years ago, in the Paleolithic Era.
1st Witness to Great Fire of London Identified

An expert has named the first person to witness the Great Fire of London. The fire began on Sept. 2, 1666, and raged for four days, devouring more than 13,000 wooden buildings, including most of the city's churches. Death toll figures range from six to 16 or perhaps a few dozen; that is for bodies recovered, and some archaeologists are convinced that the fires burned so hot (more than 2,000 degrees Fahrenheit by some estimates) that they would have incinerated some unlucky people. Most historians think that the fire began in Pudding Lane. One man who owned a bakery in that lane was Thomas Farriner. His house was the first to go up in flames during the great fire. New research of contemporary sources such as journals has convinced University of Leicester Professor of Early Modern Literature and Culture Kate Loveman, that Farriner's employee Thomas Dagger was the first to notice the blaze.