---
Current Events
Possible Gold-laden Russian Shipwreck Found off S. Korea
July 19, 2018

Searchers have discovered a very large and potentially very gold-laden shipwreck off the coast of South Korea. The ship was the Dmitri Donskoii, a 5,800 ton armored cruiser that sailed the waters in that part of the world in the last two decades of the 19th Century. The ship fell victim to Russia's own scuttling exercise during what would become one of several defeats that led to a Japanese victory in the 1905 Russo-Japanese War. The ship is thought to have sunk with a large amount of gold onboard. One estimate put the possible value of the hoard at $130 billion. Russian historians, however, have cast doubt on the ship's identity as a "treasure ship," saying that the government would have much more likely put such a large amount of gold on a train. Shinil Group, which found the wreck off Ulleungdo Island, said that it had identified the ship by comparing still visible elements to historical blueprints. The big clue, though, was finding the word "DONSKOII" carved into the stern.
Papyrus Experts Solve 2,000-year-old Mirror Writing Mystery
July 16, 2018

Scientists have decoded a 2,000-year-old papyrus by pulling it apart. The document dates to Ancient Greece and could have ties to the famous physician Galen. The papyrus is one of a number in the hands of experts at the University of Basel. The Swiss collection has included the mysterious papyrus since the 16th Century. The mystery came from what appeared to be mirror writing, found on both sides. The both-sides presentation was just one way in which the mysterious document was different. Most intact papyri are mundane documents, such as contracts and receipts, or letters from one person to another. The newly decoded papyrus contains a literary text, the Swiss researchers said, probably written by Galen. Using infrared and ultraviolet technology, the University of Basel team discovered that the papyrus was, in fact, several layers glued together. The team employed a restoration specialist to separate the sheets. Once the sheets were separate, experts were able to read what was written on them.
14,000-year-old Bread Crumbs Found in Jordan
July 15, 2018

As it turns out, ancient people left their toast crumbs behind just like modern people do. Archaeologists have found charred bread crumbs in a couple of 14,000-year-old fireplaces in Jordan's Black Desert. They're tiny crumbs, but they're bread crumbs all the same, dated using radiocarbon dating. Digging at a site in the northeast part of the country between 2012 and 2015, the team of archaeologists, including Tobias Richter of the University of Copenhagen, found charred remains of 642 lumps of plants and legumes. A total of 24 of those lumps were found to be bread-like, and 15 contain bits from cereal plants, like barley or oats or wheat. Also present were several types of plant material, such as the wetland club-rush. Further analysis convinced the archaeologists that the ancient people who made the bread used sieved flour and that the bread would have been baked on a hot stone or in the ashes of a fire.
Mummification Workshop Discovered in Egypt
July 14, 2018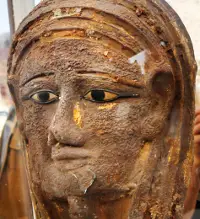 The discovery of a mummy from ancient times has been a familiar sight in Egypt, but finding a mummification workshop is something else again. A team of Egyptian and German archaeologists have done just that, near the Saqqara necropolis. In a newly discovered 100-foot burial shaft were a silver mask, a handful of mummies, some wooden coffins, and a number of sarcophagi. The people who built the shaft also carved a pair of burial chambers into the bedrock that lined the hallways. More importantly to the further understanding of embalming, the archaeologists found an embalming cachette full of stone statues, jars, and vessels, all of which, they say, will further the understanding of the kinds of oils that the Egyptians used in their embalming process. Estimates are that the artifacts found are more than 2,500 years old.
Winnie-the-Pooh Map Sets Record at Auction
July 14, 2018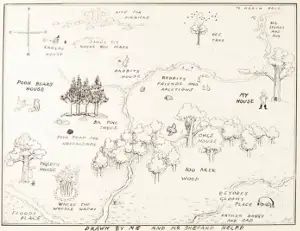 It was no bother at all for the buyer who paid a record $570,000 for an original Winnie-the-Pooh map.
The map, of the Hundred Acre Wood, was done in 1926 by artist E.H. Shepard as part of publication of the original installment of the famous A.A. Milne series. The map had not been seen in public for 50 years. Shepard had sold it in the year he drew it, and it had remained in a private collection.
The map was on the inside cover of the very first book to feature the famous bear, Winnie-the-Pooh, published in October 1926. Familiar characters in that first book included Piglet, Eeyore the donkey, Owl, Rabbit, and kangaroos Kanga and Roo. Another famous Pooh associate, Tigger, appeared in the sequel, The House at Pooh Corner, published in 1928.
nbsp;
Drought Leads to Discovery of Ancient Irish Henge
July 14, 2018
Archaeologists in Ireland are having a field day after the discovery of a previously unknown ancient henge.
The country is in the grip of a lengthy drought–it's the longest sustained dry spell since 1976–and crops are struggling up and down the Emerald Isle. The effects of the sustained heat and lack of water are apparent in the Boyne Valley, which contains Newgrange, a well-known prehistoric stone monument. A local photographer flying a drone over the area saw, emerging as if by magic, an otherwise unknown pair of concentric circles. The wider area is already a UNESCO World Heritage Site, home to other henges and other monuments. This particular henge had long been covered by the land, with many generations of farmers planting crops directly on top.
The henge dates to Neolithic times, about 4,500 years ago, archaeologists said. The henge would have been a circle of massive wooden posts, all of which have rotted away but have left an organic "footprint," which the photographer, Anthony Murphy, discovered on his recent drone flight. He had flown over the area many dozens of times and had never seen the henge before.
WHO Calls for Global Ban on Trans Fats
May 14, 2018
The World Health Organization is urging people around the world to remove trans fats from their diets, in the strongest possible way. Two very large nonprofits have joined the WHO in its launch of Replace, a program calling for elimination of trans fat from the global flood supply by 2023. The nonprofits are the Bloomberg Philanthropies and Resolve to Save Lives (an adjunct of the Gates Foundation). It is the first time that the WHO has made such a pronouncement in aid of curbing chronic disease, the organization said. The WHO said that about half a million people die prematurely each year from cardiovascular disease. Eating large amounts of trans fats has long been linked to such health problems.
Horse Found amid Ruins of Pompeii
May 14, 2018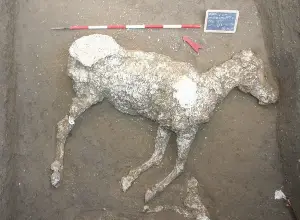 Fresh excavations of the ruins of Pompeii have turned up an ancient racehorse. The Italian city was overwhelmed by lava and ash from Mount Vesuvius on August 24, A.D. 79. Archaeologists investigating grave robber tunnels found the large horse, lying on its left side, in a stables in the northern outskirts of the suburb Civita Giuliana, beyond the Roman walls. The stables were part of the Casa dei Casti Amanti, a villa owned by a rich family. Also found near the horse were a harness made of iron and bronze. Archaeologists have suggested that the horse might have been used for racing, not doing manual work. The archaeologists have used liquid plaster to create the first-ever casting of a complete horse from Pompeii.
No Human Bankers in This Chinese Branch
May 14, 2018

"Little Dragon" can help you with that, customers are told, at China's first human-free bank branch. "Little Dragon" is the English equivalent of Xiao Long, a robot employee of Shanghai's Jiujiang Road branch of the China Construction Bank. She's not the only robot on the premises, however. Another machine awaits to further assist customers. Customers at the bank start with "Little Dragon," entering a PIN pad that she she is holding, in order to access bank information. Customers can also have conversations with customers, answering basic questions; if she is asked, she will direct customers further inside the bank, to a virtual reality room, in which customers can talk to a person, via a video link. In between are automated teller machines that can not only dispense cash but also open accounts, transfer money, and even perform foreign currency exchange.
Egypt: No Hidden Chambers in King Tut's Tomb
May 6, 2018

No one is hiding in King Tut's tomb. That's the conclusion of Egypt's Ministry of Antiquities after a series of intense radar scans of the burial chamber of the famed "Boy King," Tutankhamen, showed no hidden walls, as been the highly publicized claim of a British Egyptologist in 2015.
Sunny Morocco Steaming Ahead in Solar Department
May 4, 2018
Morocco is one of a growing number of nations building a growing number of solar farms. The first farm, near the city Ouarzazate, began operating in 2016, generating enough electricity to power 650,000 homes. The country's target is for that plant to power 1 million homes by 2020. The massive plant is already the size of Paris and has been designed to minimize damage from desert winds. Ouarzazate is a town on the western edge of the Sahara Desert, in the shadow of the Atlas Mountains. Morocco has a long history of importing nearly all of its energy needs. The solar plant, named Noor (Arabic for "light"), harnesses one of the desert country's most prevalent assets: sunlight. The country says that the Sun shines in the Moroccan desert for up to 3,600 hours a year. The first two phases of the plant, Noor 1 and Noor 2, now generate 160 megawatts of solar energy; already, the country has cut its carbon emissions by hundreds of thousands of tons a year, the government says.
Arizona Teachers Win Some Concessions, End Strike
May 4, 2018
It was back to school for students and teachers across the state of Arizona, as organizers of a statewide strike announced its end after getting some of what they wanted. The six-day walkout had been in support of a call for higher education funding, and the state legislature had supplied some of that, approving a nearly $400 million spending package that includes a 9-percent raise in teacher salaries for the fall and then a 5-percent raise for the two years following this one.
Focus on Students amid Arizona Teachers Strike
April 29, 2018
The Arizona teachers strike has no end date, so parents statewide are making child care arrangements in lieu of school. It is Arizona's first statewide strike. Teachers at first conducted a "walk-in," wearing Red for Ed T-shirts and buttons and waving similar signs at before-school protests, before getting on and teaching their students. The strike began on April 26, a Thursday, and continued the following day, a Friday. Many schools have already announced that they are closing their doors on Monday, as the strike continues. The teachers are rallying to call for more money for education and for their own salaries. American Federation of Teachers President Randi Weingarten will be in Phoenix to speak at a rally at the statehouse. Churches and community centers are among the public buildings being tapped to house children who would otherwise be in school. Across the state, day camps have sprung up as well. Schoolchildren usually each lunch at school, and so those looking after those not in school have gathered food from friends, family, and community organizations. Also collected have been donations for schools' hourly staff who are not salaried teachers and who would otherwise be at work.
Modern Techs Combine to Scan Ancient Vatican Documents

April 30, 2018

A combination of two kinds of modern technology could reveal many secrets hidden in the Vatican Secret Archives. The Secret Archives are filled with a very large number of handwritten documents going back more than 1,200 years. The space needed to store all of those documents exceeds 53 linear miles; some documents are stored in a two-story underground vault. Access to all but a tiny fraction of those is heavily restricted. Some of the documents have been scanned and made available online, but the vast majority have not. The main reason for this, authorities said, is that the technology has not been able to cope with, for lack of better phrasing, bad handwriting. Optical character recognition (OCR) software is the most common way in which documents are scanned for electronic use; but that software, as advanced as it is, struggles at times to make sense of written letters and spaces. And if the software doesn't quite know how to "translate" the letters of a word, the result is individual letters, often with spaces in between. Add to that the relatively recent practice of inserting spaces between words in handwritten documents, and the task of creating a reliable electronic representation of a document written by hand many hundreds of years ago is considered quite daunting. Now, however, the Vatican is onboard with a melding of two modern technologies, OCR and artificial intelligence itself. The Vatican has termed the project In Codice Ratio, and its goal is to create legible and understandable electronic versions of many documents that have not seen the light of day for many, many years.
Intuit Campus Cafeteria to Employ Delivery Robot

April 30, 2018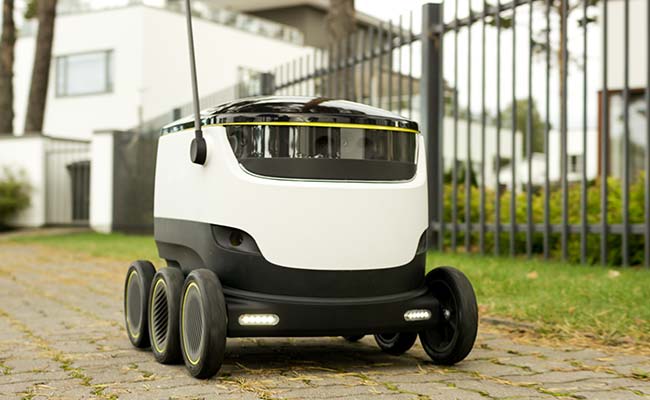 Starship's robots will be rolling out in a big way soon. The company is Starship Technologies, an autonomous delivery startup that began in 2014, the brainchild of Skype co-founders Janus Friis and Ahti Heinla. Hugging the ground and going no faster than 4 mph, the delivery robots are designed for suburban areas no more than 3 miles from point of origin. A system of proprietary maps, nine high-resolution cameras, and a 360-degree ultrasonic sensor array power the guidance system; LED lights advertise the presence of the bot on suburban sidewalks. The company has tested the robots in public places, on a limited basis, in 20 countries for the past few years. Now, Intuit, a Silicon Valley company, will employ a Starship robot to deliver meals from the company's staff cafeteria to a point elsewhere on the campus.
Arizona, Colorado Teachers Stage Statehouse Protests
April 26, 2018
Arizona teachers have taken their Red for Ed movement to the statehouse in Phoenix and Colorado teachers have descended on their state seat of government–speaking out for money for themselves and their students. In Phoenix, the crowd numbered in the tens of thousands, with teachers calling for a 20 percent raise in their own pay, an increase in pay for support staff, and about $1 billion more in education funding. Arizona teacher average salary is well below the national average. The crowd was markedly smaller in Denver but still involved teachers from 27 districts; all affected schools were closed for the day.
Revolutionary War Journal Discovered in Linen Closet
April 25, 2018

The story of a young Revolutionary War sailor's escape from a British prison ship has new focus, in the form of the sailor's own handwriting. Rhode Island native Christopher Hawkins was a teenage privateer during what Great Britain calls the War for American Independence. Hawkins was captured and served time aboard the HMS Jersey, a prison ship. Hawkins escaped by appropriating an axe and using it to break through a barred porthole and jumping off the ship. The escape was all the more remarkable because Hawkins waited until a thunderstorm was raging and timed his axe blows to coincide with the claps of thunder. Once in the water, he swam for two-and-one-half hours–in stormy, choppy seas–to escape fully. Those harrowing details come from a recently discovered journal written by Hawkins himself, in 1834, when he was 70. Hawkins' journal passed into history unremarked until it was rediscovered in the linen closet of one of his descendants.
Titanic 1st Meal Menu Sells for $140,000
April 22, 2018

The first meal served aboard the Titanic took place nearly two weeks before the ocean liner sank. A menu from that meal has sold at auction for £100,000 ($140,000). It was April 2, 1912, the first day of sea trials. Officers and crew gathered for a meal in the main dining area before passengers arrived. Second Officer Charles Lightoller was at that meal, and he saved the menu, giving it to his wife just before the ship sailed on its maiden voyage, on April 10. Lightoller was the most senior crew member to survive, after the ship struck an iceberg and sank early on the morning of April 15.
Nationwide Walkouts Remember Columbine School Shootings
April 20, 2018

Students across the U.S. walked out of class on the 19th anniversary of the Columbine High School shootings. The walkout was part of a nationwide movement that began in the wake of the Parkland, Fla., shootings in February and gained widespread attendance and attention with a large number of events on March 14 and on March 24. The latest protest involved students from more than 2,600 schools and institutions, at least one in every state and some in other countries, organizers said. Columbine students participated as they have every year since the 1999 shootings: by doing community service. The school has not had classes on that day since then.
Marcus Aurelius Bust Found in Egyptian Temple Ruins
April 23, 2018

Egyptian archaeologists have found a bust of Marcus Aurelius, the Roman emperor known as much for his philosophical writings as for his conquests. The team were working to protect the Temple of Kom Ombo from groundwater when they found the bust. Similar work in 2017 uncovered a sandstone carving that contained the name and face of Philip Arrhidaeus, who succeeded Alexander the Great as leader of Macedon. Earlier digs have found more than 300 crocodile mummies; many of those are on display at the nearby Crocodile Museum. Marcus Aurelius was Emperor of Rome from A.D. 161 to A.D. 180. An adherent to the philosophy of Stoicism, he became famous for an untitled work that has come to be called Meditations.
Law School to Give Hamilton Honorary Degree
April 22, 2018

A New York law school will be handing out an honorary degree to the nation's founding Secretary of the Treasury. Albany Law School, in its graduation ceremonies on May 18, will bestow on Alexander Hamilton an honorary degree, giving it to Hamilton's fifth-great-grandson, Douglas Hamilton. Hamilton attended King's College (now Columbia University) in New York City but did not graduate. He did not attend law school and so did not obtain a law degree; rather, he studied on his own and passed the bar exam in 1783, a year before the country's first law school, Litchfield (Conn.) Law School, opened its doors.
Fearless Girl to Leave Path of Charging Bull, Supplant It
April 19, 2018

Fearless Girl will no longer face down the Charging Bull. The New York City statue of a girl was installed in honor of International Women's Day in 2017, and was intended to promote the idea of more women on the boards of large, publicly traded companies, like the ones doing business on the stock exchange. As the statues stand now, Fearless Girl appears to be not all worried, even defiant, in the path of Charging Bull. The two statues are at the moment in Bowling Green Park, on Broadway. The bull statue made its debut in December 1989, in front of the New York Stock Exchange, as a symbol of the strength of the city's financial district, commonly known as Wall Street. The Stock Exchange, however, had the statue moved to its present location, two blocks to the south. Fearless Girl will have a new home: the next target of her defiant stance and demeanor is the Stock Exchange itself (with the approval of the exchange and the city government).

Scientists Find Super Plastic-eating Enzyme by Accident
April 17, 2018
Scientists from the U.K. and the U.S. have accidentally developed an enzyme that seems to "eat" plastic relatively quickly. The scientists were investigating an enzyme discovered by Japanese scientists in 2016 that breaks down the molecular bonds of polyethylene terephthalate, or PET, which is now used in millions of tons of plastic bottles every year. In the new research, the U.K. and U.S. scientists were studying the structure of the microbe that the Japanese scientists found and, in the process, created another enzyme, called PETase, that is even better at consuming plastic. They observed a breakdown in just a few days. PET degrades naturally in about 450 years.

Plastic Pollution Target for Earth Day
April 17, 2018
The Earth Day Network is targeting plastic pollution to mark Earth Day 2018. The organization, which has more than 50,000 partners in 195 countries, has action plans for individuals, educators, and other organizations. It's all part of efforts to eliminate single-use plastics. Among the challenges for individuals is a calculation of how much disposable plastic they use in a year. The Earth Day Network (EDN) has developed an online calculator for that.

Got 5 Minutes? Punch a Button and Read a Short Story
April 16, 2018

Short story kiosks are finding a market in the U.S., three years after their launch in France. The company is Short Edition, and the idea is that a person can punch a button on a dispenser and receive a printout of a short story, designed to be read in one, three, or five minutes. The user determines the length-by-duration and the genre of story by pushing the relevant buttons. The user pays nothing, and the paper is eco-friendly.
Kentucky Lawmakers Override Governor's Funding Vetoes
April 15, 2018
In a win for the state's teachers, the Kentucky legislature has voted to override the state's governor's vetoes of bills sent to him for approval. Gov. Matt Bevin had vetoed a state budget and tax increase that were both approved by both the Kentucky House of Representatives and Senate, saying that they lacked fiscal responsibility, while also signing a bill that amounted to cutting pensions for first-time teachers. In response to the announcement of the pension reform bill, Kentucky teachers by the thousands descended on the statehouse in Frankfurt to air their concerns. The crowds grew larger after the governor's vetoes. The legislature convened for the last two days of its term in the shadow of the thousands-strong protest and voted to override the governor's veto.
Amateur-found Hoard Linked to King Bluetooth
April 16, 2018

A chance discovery by a pair of amateur archaeologists could be associated with Denmark's famed King Harald Bluetooth, experts said. The pair, 13-year-old Luca Malaschnitschenko and René Schön, were using metal detectors to scan a field on the Baltic Sea island of Rügen in January when they found a silver coin. Taking their find to experts resulted in a team dig of 4,300 square feet, and among the trove found buried were brooches, coins, braided necklaces, rings, and a Thor's hammer. The field is in Schaprode, a German municipality in the state of Mecklenburg-Vorpommern, which is also known as Mecklenburg-West Pomerania. Not far from Schaprode is the island of Hiddensee, site of a 19th-Century discovery of a hoard of gold from the reign of Bluetooth, whose real name was Harald Gormsson, also known as Harald Blåtand.
Public Viewing for 1906 SF Quake Found Footage
April 15, 2018

Newly discovered footage of the 1906 San Francisco earthquake has seen the light of day in a public forum for the first time. For three successive nights, more than 120 people crammed into a small theater at the Niles Essanay Silent Film Museum in Fremont, Calif., to watch nine minutes of silent footage of one of America's most devastating natural disasters. The film, taken by the well-known Miles Brothers just after the April 1906 quake and fire, shows up-close the devastated city. The filmmakers had completed another film, A trip down Market Street before the fire, just four days before the devastation occurred. For the first time, the public was able to see the before-and-after moving images that until now had been available only in still photographs.
Target Set for Cuts in Shipping Emissions
April 15, 2018
The world's shipping industry has committed to cutting its greenhouse gas emissions, for the first time ever. The target is a 50-percent reduction by 2050 of levels observed in 2008. Officials for the 173-member International Maritime Organization (IMO) made the announcement after weeklong talks in London. According to the IMO, shipping across the globe generates emissions that would rank it as the world's sixth-largest emitter if placed in a list of nations. A new study found that if shipping emissions were not reduced, they would amount to 15 percent of the total amount by 2050.
Oklahoma Teachers Union Ends Strike
April 12, 2018
The Oklahoma teacher strike is over. Teachers had been out of the classroom for nine days, gathering in large numbers at the Oklahoma City statehouse. One group of teachers had marched 100 miles from Tulsa in order to join the capital city protest. In the end, the legislature refused to allocate any more money, and so the head of the statewide teachers union called off the strike. That action came on a Thursday. Many schools across the state had already announced that they would close that day and the following day. Now, schools will open their doors as normal on Monday.
Arizona Teacher 'Walk-ins' Have Lawmakers Seeing Red
April 12, 2018

Arizona teachers by the thousands wore red shirts and carried signs to call attention to their call for higher salaries and more school funding. The "walk-ins," in which teachers took their protest to work with them, were in contrast to the recent walkouts in two other states, Kentucky and Oklahoma. At 1,112 schools across the state, the Arizona teachers had demonstrations before school began, as part of a campaign dubbed RedforEd. Among their demands were a 20-percent salary increase and more than $1 billion in new education funding. Arizona teachers rank 48th (high school) and 49th (elementary school) in the U.S. in cost-of-living-adjusted salary figures.
Dutch Villagers Silence 'Singing Road'
April 11, 2018
In the end, the "singing road" lasted just a few days. In an effort to promote a Dutch city that is the 2018 European Capital of Culture, transport officials installed on a stretch of road a series of safety strips that played music when vehicles drove over them. The music was "De âlde Friezen," the anthem of Friesland, at the northern trip of the Netherlands; if a motorist drove over the "singing" rumble strips at the speed limit–which was 60 kmh or 40 mph–the anthem would play at normal speed and in key. Driving at a slower speed would result in the anthem's being played at a slower speed and not in key; conversely, a fast driver would hear a faster version of the anthem, again not in key. Residents of Jeslum, a nearby village, protested loudly, complaining that the "singing" was disrupting their waking and sleeping lives. Some people said that some drivers drove over the rumble strips as quickly as possible in order to see how fast they could make the music play.
Black Panther Star to Chronicle Real-life Panthers' War Story
April 11, 2018


In a case of art imitating life, one of the stars of the superhero blockbuster Black Panther will serve as a producer on a new movie about some real-life Black Panthers, a World War II tank battalion. Michael B. Jordan, who played one of the contenders for the throne of Wakanda in the film, is on board as a producer for a film to be titled The Liberators. Like the Tuskegee Airmen, the 761st was made up almost entirely of African-Americans. Among the 36 officers of the initial 700-strong battalion was Jackie Robinson.
Dachshund Museum Opens in Germany
April 11, 2018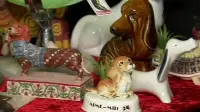 The German region of Bavaria now has a museum dedicated to all things dachshund. The Dackelmuseum (German for "Dachshund Museum") opened in Passau on April 2. Customers shopping in the store opened by florists Josef Küblbeck and Oliver Storz can find more than 4,500 figurines, photos, stamps, and other items showing or inspired by the tiny sausage-shaped dog.
Oklahoma Students Take SATs in Shadow of Teacher Strike
April 10, 2018
Many Oklahoma students had to report to school even though their teachers were on strike. Why? It was SAT day. The state's two largest school districts, Oklahoma and Tulsa, opened their doors so that high school juniors by the hundreds could take the Student Achievement Test on the day on which it was scheduled. Schools provided meals to students taking the test, as well as bus transportation to and from school. Those schools were closed to other students, however. In all, about 500,000 of the state's 700,000 students are not attending school because their teachers are on strike, demanding more money for themselves and their schools.
Kentucky Teachers Plan Large Protest of Governor's Vetoes
April 10, 2018
Kentucky teachers by the thousands are planning to be at the Frankfurt statehouse to greet the return of the state legislature, in an attempt to reverse measures recently taken by the governor that teachers say are harmful.
The Republican-led legislature had passed three bills and sent them to Gov. Matt Bevin, also a member of the GOP, for approval. One was a two-year operating budget, one was a $480 million tax increase, and one was a pension reform bill. Bevin signed the pension reform bill into law but vetoed the budget and the tax increase, both of which contained provisions for significant increases in education spending. The pension reform bill, by contrast, cuts pensions for new teachers.
Titanic Survivor's Onboard Letter Set for Auction
April 10, 2018

A letter written aboard the Titanic will be soon up for auction. Kate Buss, who survived the sinking of the ocean liner, was a Second Class passenger on the doomed voyage. She wrote the letter on April 10, 1912, one day after she and the other passengers left Southampton, England. The letter, which Buss posted on the ship, is written in black ink on four sides of a piece of paper and is addressed to Percy James, her brother. Buss notes receiving his letter while she was aboard ship. Buss writes of the magnificence of the First Class apartments and of the shared meals that she enjoyed. She also wrote that her stateroom roommate had yet to show up. Buss was reading a newspaper when the ship struck the iceberg. She made it onto Lifeboat Number 9 and then to the Carpathia, to complete the journey to America. She was on her way to meet the man she would eventually marry, Samuel Willis.
Low-flying Drones Reveal New Nazca Lines
April 8, 2018

Archaeologists have found a whole new network of geoglyphs in the spirit and location of Peru's famed Nazca Lines. The Nazca culture flourished in what is now Peru in the first half of the first millenium A.D., long before the famed Inca held sway there. Populating the area before the Nazca were other cultures, including the Paracas and Topará; and it is people from those two cultures that today's archaeologists think carved out some of the newly discovered geoglyphs, which are all these years later too faint to be seen by the naked eye. Scans by low-flying drones revealed the newfound lines, as well as some previously undiscovered Nazca Lines.
Silver Screen Gets New Life in Saudi Arabia
April 5, 2018
Saudi Arabia will begin showing movies in public later this month. First up: Black Panther. The movie theater plan calls for dozens of theaters in cities across the country. Up first will be America-based AMC, which will open up to 40 theaters during the next five years and 100 in a total of 25 cities by 2030. Straight on the heels of that initiative comes an announcement from U.K.-based Vue International of a 30-theater deal. Saudi Arabia had movie theaters, opened and run by expats, in the 1930s. Those theaters ran movies for decades but were closed in the 1980s.
Oklahoma Teachers on Strike for Fourth Day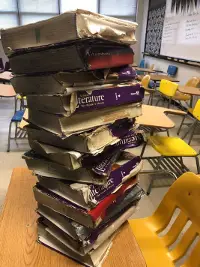 April 5, 2018
Oklahoma teachers skipped class for a fourth straight day in an effort to call attention to what they say is a dire need for more money–for themselves but, more importantly, for their students. The Oklahoma Legislature recently approved a $6,100 pay increase for the state's teachers, which ranked 49th in the country in average salary; the teachers want that number to be $10,000, partnered with another cash infusion to bolster spending on things they say are vital, like heating in school buildings and replacements for school supplies that are falling apart. The state also ranks 47th in per-student expenditures. An art teacher shared on social media a photo a broken chair in her classroom; in response, people she didn't know sent her $44,000 in donated supplies–more than her total annual salary. Photos also shared showed textbooks lacking bindings and covers. One teacher shared a photo of a textbook that listed as the current U.S. President George W. Bush, saying that that was the last textbook the school district bought for her students.
Kentucky, Oklahoma Teachers Converge on Statehouses
April 2, 2018

Tens of thousands of teachers in Kentucky and Oklahoma have marched to their respective state capitols in order to protest their pay and other benefits. The Oklahoma protesters, about 30,000 from hundreds of schools across the state, converged on the state capitol in Oklahoma City in order to call for increases in funding for programs and supplies that the teachers say have been removed in recent years. Nearly half of the schools across the state closed on Monday as a result; further school closures were expected for Tuesday. In Kentucky, gatherings took place outside Frankfort's headquarters of the Kentucky Education Association and at the statehouse. The Kentucky Legislature had recently passed a series of bills as a way to target a projected $41 billion shortfall during the next 30 years. The pension reform, which included cutting pensions for first-time and retiring teachers, was part of another bill allocating funding for not education but sewage.
Sisi Overwhelmingly Re-elected as Egyptian President
April 2, 2018
Egyptian President Abdel Fattah al-Sisi has won re-election, taking 97 percent of the vote. In the weeks leading up to the presidential election, leaders of the country's opposition parties called for a boycott, in large part to protest the treatment of a series of opposition candidates, all of whom dropped out, willingly or otherwise.