---
Current Events
ACT to Allow Retakes of Parts of Exam
October 9, 2019
Students wanting to retake the ACT will be able to focus on only certain parts, organizers of the college entrance exam have announced. Starting in 2020, students can sit the exam again but take only individual parts; at the moment, a student can resit the exam but has to take the entire test again. To reflect this change, organizers have introduced a "superscore," a composite score of each time that a student has attempted a certain part of the exam. Officials said that they were making the change in part because of reports that students who retook the exam scored worse on subsequent sittings.
5,000-year-old 'New York' Found in Israel
October 8, 2019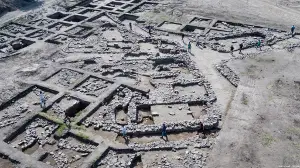 Archaeologists in Israel have found a very large city that dates to 5,000 years ago north of Tel Aviv. The city is one of the largest ever found in Israel. Surrounding the city was a detailed fortification wall, at times six feet high. In the city was a large temple, inside of which were burnt animal bones, and figurines with animal and human faces; outside the temple was a large courtyard, in which were a large stone basin that religious officials filled with ceremonial liquids. Also found in the city was a cemetery. As well, the findings include a systematic street and city design–divided between public and residential buildings–that suggest a sophisticated approach to settlement design, Antiquities Authority officials said. The city, which is 5,000 years old, at its height would have had a population of about 6,000 and, officials said, would have been "the Bronze Age new York."
Famed D-Day Recording Found in Basement
October 6, 2019

An original recording of a famous account of the D-Day landings is in the public arena again, after being discovered in a New York basement. George Hicks was the reporter who came under fire from German planes while he was on the USS Ancon, as part of the armada that stormed the beaches of Normandy on June 6, 1944. The recording is 13 minutes of what Hicks observed as the invasion progressed. He is heard speaking calmly amid the chaos of war, his words competing for purchase over the roars of planes and guns and soldiers.
Ocean Plastic Cleanup Machine Records First Success
October 6, 2019
A giant refuse retrieval system has claimed its first victims: part of the Great Pacific Garbage Patch. Ocean Cleanup, a non-profit engineered by 25-year-old Boyan Slat, sent System 001/B out into the Pacific, in search of the hard-to-miss mass of garbage between California and Hawaii that at last estimate comprised more than 617,000 square miles of floating debris. The mechanism did its job, trapping within its nets a large selection of rubbish that would otherwise have had the potential to not only pollute the world's waterways but also endanger the world's marine life.