---
Masses Gather Across World to Protest Gun Violence
On This Site
Share This Page

---
Follow This Site

March 24, 2018
Hundreds of thousands of people took part in the March for our Lives, a series of events to commemorate the lives lost in school shootings in America.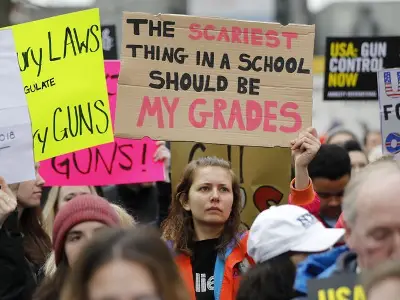 March 24, 2018 was the 20th anniversary of the shooting deaths of five at a middle school in Jonesboro, Ark. Survivors of that event took part in marches, as did parents of children killed at the 2012 Sandy Hook elementary school and survivors of this year's Parkland, Fla., shootings at Marjory Stoneman Douglas High School, in which 17 students and staff members died. The Parkland survivors and many, many other people also participated in events a week earlier in the National School Walkout. That set of protests involved more than 200,000 people, many of whom left school for 17 minutes, to remember the 17 who died in the Parkland shooting. That protest was on a weekday; this latest set of marches was on a Saturday, enabling many more people to attend. Marches routinely lasted three hours of more.
Staff members of Eagle Eye, the student newspaper of Stoneman Douglas High School published guest articles on the U.K.'s Guardian website before, during, and after the marches. The students were in Washington, D.C., along with an estimated 500,000 people.
Parkland students had their own march at their own school, as did other students and adults in more than 800 marches around the world. Every state in American had at least one march, with every major city represented.
Also attending were family members of people who died in other non-school mass shootings, including Las Vegas and Orlando.
Students and adults also marched in other 37 countries, on every other continent except Antarctica. Large cities having events included Berlin, Brussels, Copenhagen, Dublin, Edinburgh, Hong Kong, London, Madrid, Manila, Oslo, Paris, Rome, Seoul, Stockholm, Sydney, Tel Aviv, Tokyo, and Vienna.
At the Washington, D.C., event, 20 speakers, all under 18, addressed the massive crowd. Some of those speaking were students from Washington-area school affected by gun violence.
Yet another march is planned for April 20, the 19th anniversary of a school shooting at Columbine High School.