Thousands of students across the country participated in the National School Walkout, an event planned to memorialize those who lost their lives in a Florida school shooting in February.
More than 3,100 separate groups of students (and, in many cases, adults), numbering close to 200,000 people in all, marched, chanted, or stood or sat silently at 10 a.m. in their local time zone. The protests were planned to last 17 minutes, one minute for each of the 14 students and three adults who was shot and killed on February 14 at Marjory Stoneman Douglas High School, in Parkland, Fla. The suspected perpetrator, a former student at the school, faces charges of premeditated murder and attempted murder. (A further 17 students were wounded in the attack.)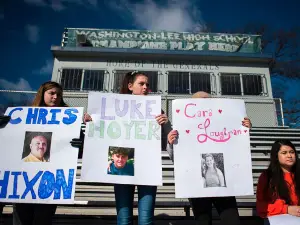 In the school walkout events, some students carried signs with messages urging peace and harmony, others carried signs with names and faces of those lost in the attack. Others issued calls for tighter controls of Americans' ability to get guns.
In Washington, D.C., a very large group of people marched from the White House to Capitol Hill, for a rally.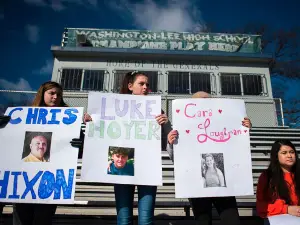 It wasn't just students on the march. New York Gov. Andrew Cuomo joined a group of students protesting silently in New York City.
Joining in the walkout were students of Columbine High School, the Littleton, Colo., site of shooting in 1999. Columbine students and staff gathered on the school's soccer field and read out the names of those lost in Parkland and at their own high school. They also tied ribbons to a school fence and launched balloons, all in honor of the deceased. Another protest is planned for April 20, the 19th anniversary of the Columbine incident.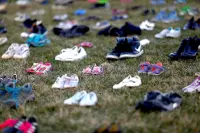 Also in Washington, in front of the Capitol lawn, was a monument built out of 7,000 pairs of shoes. The monument was built in association with the planned March 24 march. Those who built the monument said that the number of shoes referenced the number of children who have died since the 2012 shooting at Sandy Hook Elementary School that killed 20 students and six teachers. The shoes were on the lawn for a day or so and then removed and given to charity.
One Virginia middle school teacher, Jodie Katsetos, who teaches 6th grade at Oak Hall's Arcadia Middle School, had a slightly different message. She urged students to walk up. What she posted on her classroom wall was a set of suggestions/urgings:
Walk up to the kid who sits alone and ask him to join your group.
Walk up to the kid who never has a voluntary partner and offer to be hers.
Walk up to your teachers and thank them.
Walk up to someone and just be nice.
Reaction by school administrators to the walkout has been mixed. Some administrators have been sympathetic to their students' need to leave school, even if only for 17 minutes; other administrators have reminded students and staff that they have a responsibility to be in school, especially if teachers had already scheduled a test for the day of the walkout. Some administrators had canceled their schools' events after receiving negative feedback from students' parents. Some administrators said that they would suspend any students who left school, even for a short time. One school already did so, suspending for a day dozens of students who left school for a protest in late February.
As with previous school shootings, the Parkland incident reignited a national debate over gun–who has them, who should have them, how easy or difficult it is to get them, what requirements should be in place in order to own one, etc. One part of the debate that has gained high visibility is the possibility of teachers and staff themselves having guns at school. The Florida Legislature recently passed–and Florida Gov. Rick Scott signed into law–a blueprint for doing just that, provided that teachers and staff undergo state-sanctioned firearms training. School districts can opt out.
The bill also raises the legal age to buy a gun, to 21, and specifies a three-day waiting period for any gun.
The Legislature had earlier voted down a proposal to ban the purchase of the kind of assault rifle used in the Parkland shooting; Marjory Stoneman Douglas students had traveled six hours by bus to Tallahassee, the state capital, in order to meet with lawmakers and urge them to adopt such a ban.
Parkland students have been very vocal in the wake of the shootings, meeting with other public officials, including a well-publicized event at the White House.