---
Solar-powered Yacht to Bring Teen Climate Activist to U.N. Summit
On This Site
Share This Page

---
Follow This Site

July 29, 2019
The teenage climate activist sensation Greta Thunberg will leave her native Sweden and travel to a U.N. global warming summit in New York, and she will be going by boat.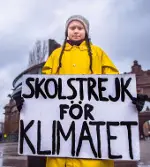 Thunberg, who is now 16, soared to international recognition in 2018 by going not to school but to Parliament in Stockholm to protest. She had a wooden sign and some flyers, containing facts about carbon footprint and climate change. She spent what would have been her schoolday hours in front of Parliament, holding up the sign and handing out flyers. She went back the next day and found other people ready to stand with her. Every school from then until Sept. 9–the day of her country's general elections–Thunberg spent outside Parliament, holding her own vigil; the crowds with her grew and grew. She wanted to call attention to the fact that her country's environmental policies were not necessarily in line with the 2015 Paris Agreement on actions needed to combat climate change.
She is not attending school this year in order to focus fully on her campaign to raise awareness about climate change. She has led the charge for events around the world, including a series of Climatestrike days, in which students and adults in cities on most continents followed Thunberg's example and spent school hours protesting against the pace of climate change.
She does not fly as a protest of the large amount of carbon emissions generated by airplanes (the same reason that she refuses to travel on cruise ships). She will be sailing across the Atlantic Ocean in the solar-powered racing boat Malizia II. Underwater turbines also power the 60-foot yacht, which is part of a Monaco-based racing team whose leader is Pierre Casiraghi, the grandson of Prince Rainer III and the U.S. actress Grace Kelly. German property developer Gerhard Senft owns the yacht, which was built for a 2016–2017 round-the-world race.
Thunberg's seaborne trip, which is to begin in mid-August, is expected to take two weeks. Also on her schedule are events in Canada and Mexico.The New York summit takes place on September 23.
She has announced that she will also attend the meetings of the annual U.N. Framework Convention on Climate Change, which will occur this year in December in Santiago, Chile. She intends to get there by train and bus.