---
Climatestrike Has Record Crowds Again Worldwide
On This Site
Share This Page

---
Follow This Site


May 24, 2019
In another planned example of global cooperation, a record number of students skipped school on Friday to demand action on climate change. As the day dawned in cities around the globe, students (and many adults) gathered peacefully in public places, wielding signs and chanting slogans, calling for their governments to do something to slow the rate of global warming.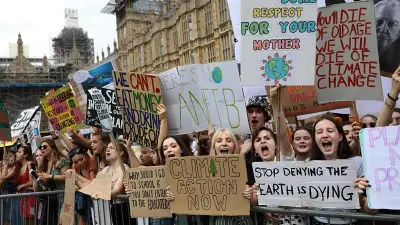 It was a repeat of the March 15 Climatestrike, the participants of which numbered more than 1.6 million people in more than 100 countries. In the May 24 event, the number of countries was 110, the number of events topped 2,500, and the number of participants was a record.
Students in New Zealand and Australia, which recently suffered through its hottest summer on record, kicked things off and were followed by other people gathering in India, Japan, Thailand, and elsewhere in Asia. As the day continued, more and more people gathered in more and more places, in every continent but Antarctica.
The teenage girl at the center of the movement, Greta Thunberg, led a march in Stockholm, in her home country of Sweden. On Aug. 20, 2018, Thunberg went not to school but to Parliament in Stockholm to protest. She had a wooden sign and some flyers, containing facts about carbon footprint and climate change. She spent what would have been her schoolday hours in front of Parliament, holding up the sign and handing out flyers. She went back the next day and found other people ready to stand with her. Every school from then until Sept. 9–the day of her country's general elections–Thunberg spent outside Parliament, holding her own vigil; the crowds with her grew and grew. She wanted to call attention to the fact that her country's environmental policies were not necessarily in line with the 2015 Paris Agreement on actions needed to combat climate change.
Some people gathered in public parks or marched on public streets. Others formed human chains: some in Norway joined hands to block entrance to the country's central bank and called for the bank to stop investing in companies that burn coal.
Thunberg, along with Luisa Neubauer, a well-known climate activist from Germany, announced a weeklong effort planned for September, starting on Friday, Sept. 20.