---
Cherokee Nation Nominates Delegate to Serve in Congress
On This Site
Share This Page

---
Follow This Site

August 26, 2019
The Cherokee Nation will appoint a delegate to the House of Representatives, exercising a privilege set out in an 1835 treaty but not acted on until now.
Kimberly Teehee, the tribe's vice-president of government relations, will be that delegate, pending approval by the full tribal council and by Congress. Teehee's experience in Washington, D.C., includes a stint as a senior policy adviser on Native American affairs to then-President Barack Obama and as a member of Obama's White House Policy Council. A fluent Cherokee language speaker, she was born in Chicago and grew up in Oklahoma. She graduated cum laude from Northeastern State University and earned a law degree from the University of Iowa College of Law. Her other political experience includes serving as director of Native American outreach for the Democratic National Committee and for the first-term inauguration of President Bill Clinton and as a senior advisor to Rep. Dale Kildee (D) of Michigan.
The 1835 Treaty of New Echota was devastating for the Cherokee, who were forced to leave their homes in the Southeast and travel hundreds of miles to what was then Indian Territory and is now Oklahoma. The treaty also allowed the U.S. Government to call in armed soldiers to enforce the migration. By 1838, only about 2,000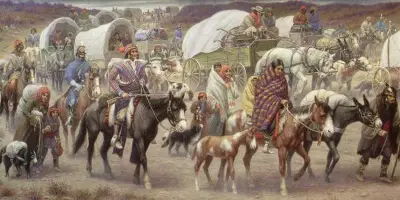 Cherokee had left Georgia. As a result, about 7,000 members of the U.S. Army, some militia groups, and a few volunteer groups, commanded by future Mexican-American War hero Winfield Scott, rounded up twice their number of Cherokee and installed them in holding camps near Cleveland, Tenn., until they were allowed to begin their journey westward. More than 5,000 of these people died on the Trail of Tears, forced as they were to travel with the barest of necessities through harsh terrain in unforgiving winter weather. Clothing was scarce, as was food and shelter. Most walked, many without anything on their feet. Some went by water, traversing various rivers along the way; for these migrants, being in boats was the only upgrade. Causes of death included cholera, dysentery, typhus, and whooping cough, not to mention starvation.
Under the terms of the treaty, Cherokee gave up all rights to lands east of the Mississippi River and got in return a sum of $5 million, payment in yearly installments; $500,000 for education; full compensation for all property left behind; and the promise that the lands in their new "homes," for which they had left behind their ancestral homes, would be theirs to own in the future, without restriction. Another matter of compensation was the one the modern-day Cherokee Nation is exercising now, the right to send a delegate to the U.S. House. Despite the savage treatment that Cherokee and other Native Americans sustained at the hands of the U.S. Government, neither that government nor the tribes who signed it have ever revoked the treaty and so it remains on the books.
The Cherokee Nation is by far the largest of three Cherokee tribes recognized by the federal government, with a population of nearly 300,000, 189,000 of whom live in Oklahoma. The other tribes are the Eastern Band, in North Carolina, and the United Keetoowah Band, in Oklahoma. Whether one or both of those tribes could take a similar action isn't clear; neither tribe has voiced the desire to do so.
The treaty doesn't specify whether a Cherokee delegate would have voting rights. The House already has six non-voting members. Representing Puerto Rico is a resident commissioner, who serves a four-year term. Serving two-year terms are delegates from Washington, D.C., and four U.S. territories, American Samoa, Guam, the Northern Mariana Islands, and the U.S. Virgin Islands. All of those six existing non-voting members are on various House committee and have voting rights on those committees; none of those existing non-voting members has voting rights on votes of the full House.