---
Current Events
Tuskegee Airmen Plane Wreck Found in Lake Huron
August 31, 2023

Nearly 80 years after the accident, divers have recovered the engine of a plane flown by a Tuskegee Airman who crashed on a training mission into Lake Huron. On April 11, 1944, Lt. Frank Moody, all of 22 years old, took off on a training flight from Selfridge Field, outside Detroit. His P-39 Airacobra suffered severe damage, and pilot and plane dove into the water at high speed. Moody was more than 300 African-American pilots who trained to fly during World War II. At the time, the military was racially segregated and so these pilots were part of a separate unit, which became known as the Tuskegee Airmen, after Alabama's Tuskegee Institute, near which they trained.
BRICS Nations Approve 6 New Members
August 25, 2023

And now they have 11. The BRICS nations group has agreed to expand its membership, adding to its existing five members another six nations. As of Jan. 1, 2024, Argentina, Egypt, Ethiopia, Iran, Saudi Arabia, and the United Arab Emirates will be full functioning members of the BRICS group, a multilateral collection of countries that now includes Brazil, Russia, India, China, and South Africa. The name of the group is an acronym of the countries' names; the group, formed in order to improve economic cooperation, dates to 2009. What remains unclear is whether the group's name will change again and, perhaps more fundamentally, how the inclusion of new members will affect the goings-on of the group.
Red Ochre Find Supports Idea of Ancient Britons as 'Painted People'
August 24, 2023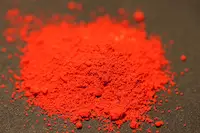 Archaeologists in the United Kingdom have found evidence to support the idea that ancient peoples there made use of body paint, supporting a longheld tradition of cultural use and naming. A team digging at a 6,500-year-old ceremonial site near Carlisle, in northwest England, have found more than 600 red ochre fragments and a number of stones that would have been used to grind ochre deposits into powder. It is the largest find of red ochre pieces yet found in the U.K. Discovered along with the red ochre were hundreds of thousands of fragments of flint, suggesting to the researchers that the site was the site of an ancient gathering, perhaps an annual one. The presence of red ochre lends credence to the idea that ancient Britons painted their bodies, as has been believed for many years.
BRICS Nations to Gather for Annual Summit
August 21, 2023
The BRICS nations are having their annual summit this week, in Johannesburg, South Africa. Attending the summit will be many high-ranking officials from all five nations, including the heads of state: Luiz Inacio Lula da Silva of Brazil, Indian Prime Minister Narendra Modi, Xi Jinping of China, and the host nation's President, Cyril Ramaphosa, Attending via video link will be Russian President Vladimir Putin, who faces an International Criminal Court warrant on war crimes in conjunction with his country's war with Ukraine. High-level discussions of that war are not intended to take place, particularly since the other four members have differing stances on its prosecution: China and South Africa have historically had close to Russia, and Brazil and India have largely stayed out of the international debate on the war. Chief among the topics that will be discussed is further expansion of the group. More than three dozens countries have either formally applied or expressed interest in joining.
Young Plaintiffs Win Climate Change Case against Their State
August 16, 2023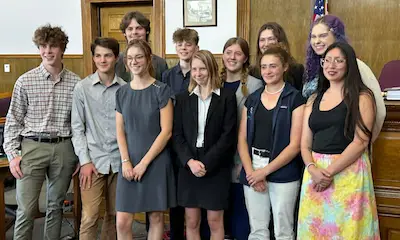 For the first time in American history, a court has said that a government is constitutionally bound to protect its citizens from climate change. That was the ruling of Montana District Judge Kathy Seeley in Held v. Montana, a closely watched case brought by 16 young plaintiffs. In particular, the ruling found that part of the state's Environmental Policy Act was in contravention to the state constitution and specifically to what is known as the state's "Green Amendment," which guarantees Montana citizens a "clean and healthful" climate. The act promoted the continued use of fossil fuels, which have been found to lead to global warming and went further, preventing Montana from taking into considering how such energy projects affected the state climate; it was that prevention that the judge found unconstitutional.
3,800-year-old Cuneiform Tablet Found in Turkey Quake Rubble
August 14, 2023

One of the finds among the rubble stemming from a devastating earthquake in Turkey earlier this year is a clay tablet that still features cuneiform writing from nearly 4,000 years ago. The February 6 earthquake registered 7.8 on the Richter scale and was felt as far away as Egypt. The death toll in Turkey and neighboring Syria has been estimated at nearly 60,000. Archaeologists digging in the southern province of Hatay have unearthed a small undamaged tablet that they estimated to be 3,800 years old. The writing is the script from ancient Sumeria, one of Earth's first civilizations. Successor peoples imported and adapted that script into their own languages; chief among those languages were Akkadian, Elamite, Hittite, and Hattic. Among the writing on the tablet is a transaction for a king to buy a city. That leader, Yarim-Lim, is the first known king of Alalakh, an Amorite settlement founded in the 3rd Century B.C. and at one time the capital of a city-state named Mukis. The tablet also contains the names of people who witnessed the sale.
Rare Ides of March Coin Minted by Brutus Up for Auction
August 3, 2023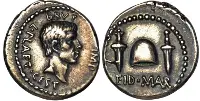 A rare coin minted by Marcus Junius Brutus, assassin of Julius Caesar, is up for sale. Stack's Bowers Galleries, a Costa Mesa, Calif. rare currency dealer, is auctioning the coin, one of only 100 known to still exist. The coin is known as an "EID MAR" because of that very inscription, on the back of the coin. The reference is to the Ides of March, or March 15, the date in 44 B.C. on which the famed Roman general and politician Caesar was murdered, by Brutus and other members of the Roman Senate. Also on the back of the coin are a pair of daggers, the Senators' weapon of choice in killing Caesar, and a liberty cap, recognized by many as a symbol of freedom. The coins are also known as Denarii of Brutus.