---
The Iditarod Trail Sled Dog Race
On This Site
Share This Page

---
Follow This Site


The Iditarod Trail Sled Dog Race is a nearly 1,000-mile race across Alaska that is run each year in the first three months of a calendar year. The race began in 1973. Organizers had in mind a way to commemorate the 1925 Serum Run, which involved a series of dog teams transporting much-needed medicine to children in Nome.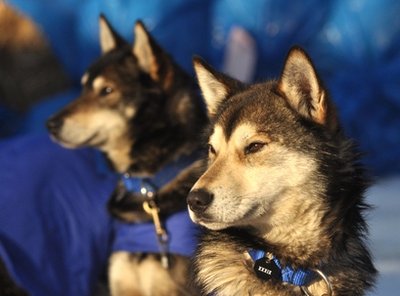 The race features dozens of mushers who ride on sleds and propel a team of dogs across snowy and icy terrain, in a generally northwest direction, from Willow to Nome.
A traditionally ceremonial start, an 11-mile jaunt through Anchorage, precedes the race start by a day. Then, racers are off, pushing themselves and their dogs to the limit for more than a week.
The race has two routes, the Northern and the Southern. The usual practice is that participants take the Northern route in even-numbered years and the Southern route in odd-numbered years.
The course record is 8 days, 3 hours, 40 minutes, 13 seconds, set by Mitch Seavey in 2017.
According to the Board of Directors, "The object of the race is to determine which musher and dogs can cover the race in the shortest time under their own power and without aid of others. That is determined by the nose of the first dog to cross the finish line."
To facilitate that, the race has many rules. Among those rules are these:
A participant must be 18 years old and have completed a race of similar distance or demand and a handful of lesser-distance qualifying races
A participant must personally sign in at each checkpoint before continuing.
A participant must take one 24-hour stop at an official checkpoint, one eight-hour stop on the Yukon River, and one eight-hour stop at White Mountain. None of these mandatory stops may be combined.
A participant can use no more than three sleds. Those sleds must not have sails or wheels. Participants can use ski poles.
A participant must have snowshoes, cooker and pot (with fuel to boil water), ax, cold-weather sleeping bag, non-chafing harness for each dog, eight booties for each dog, and a veterinarian notebook to be handed over at each checkpoint.
A participant must have between 12 and 14 dogs at the start and five dogs at the finish.
Dogs must have adequate food and water and treated humanely.
Race rules require participants to call in at various checkpoints along the way. The first 10 are the same; then, they divide, missing out some in favor of other, depending on which route the race is following that year. The checkpoints are these:
Checkpoints
Anchorage (ceremonial start
Willow Lake (actual race start)
Yentna Station
Skwentna
Finger Lake
Rainy Pass
Rohn Roadhouse
Nikolai
McGrath
Takotna
Ophir
Northern Route
Cripple
Ruby
Galena
Nulato
Southern Route
Iditarod
Shageluk
Anvik
Grayling
Eagle Island
Kaltag
Unalakleet
Shaktoolik
Koyuk
Elim
Golovin
White Mountain
Safety
Nome
Rick Swenson, with five (1977, 1979, 1981, 1982, 1991) has won the most Iditarod races. He completed 30 races and won in three different decades.
Other multiple champions:
Susan Butcher, 4 (1986, 1987, 1988, 1990)
Jeff King, 4 (1993, 1996, 1998, 2006)
Lance Mackey, 4 (2007, 2008, 2009, 2010)
Dallas Seavey, 4 (2012, 2014, 2015, 2016)
Doug Swingley, 4 (1995, 1999, 2000, 2001)
Martin Buser, 4 (1992, 1994, 1997, 2002)
Mitch Seavey, 3 (2004, 2013, 2017)
Iditarod Trail Sled Dog Race Winners
| | |
| --- | --- |
| 1973 | Dick Wilmarth |


Rick Swenson


Susan Butcher


Martin Buser


Jeff King


Lance Mackey


Dallas Seavey