---
Current Events
Jackson Confirmed as 1st African-American Woman on Supreme Court

April 7, 2022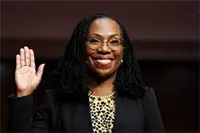 The U.S. Senate has confirmed Ketanji Brown Jackson to the U.S. Supreme Court. She will be the first African-American woman to sit on the high court. Jackson, 51, won confirmation on a vote of 53–47. President over the Senate vote was Vice-president Kamala Harris, the country's first African-American second-in-command. Jackson will replace Associate Justice Stephen Breyer, who will retire at the end of the Court's current term. A graduate of Harvard University and Harvard Law School, Jackson served as U.S. District Court judge and on the D.C. Circuit Court of Appeals. She also worked as a public defender and served on the U.S. Sentencing Commission.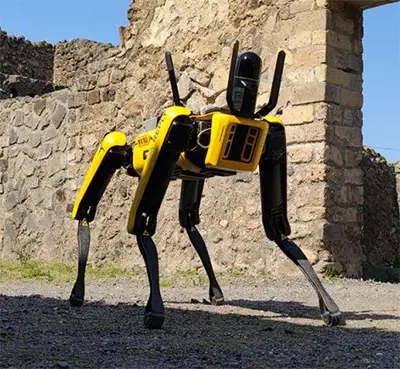 Pompeii to Employ Robotic Dog as Archaeologists' Best Friend
April 7, 2022
A robotic dog is the latest innovation to help catalog the archaeological treasure trove at Pompeii, the city covered in ash after the eruption of Mount Vesuvius in the 1st Century. Spot, built by Boston Dynamics, moves very much like its animal prototype but also has onboard technology such as a 3D scanner, which transmits what it "sees and hears." Officials at the Archaeological Park of Pompeii expect the 50-pound Spot to alert them if it finds signs of erosion or damage. One prime cause of concern that Spot could address directly is the continuing presence of looting at the 1,900-year-old site. Archaeologists are still finding new things at the site (like a snack bar and a nearly intact chariot), and looters are still digging tunnels in order to spirit away things yet unfound. Officials expect Spot to investigate such tunnels, which can often be unsafe for humans to traverse.
Eleanor Roosevelt Headlines Next 5 Women to Be on U.S. Quarters
April 3, 2022
The U.S. Mint has completed its list of the next five women who will appear in the American Women Quarters Program. They are Bessie Coleman, Jovita Idár, Edith Kanaka'ole, Eleanor Roosevelt, and Maria Tallchief. Depictions of the women will appear on the reverse of the 25-cent coins, to be released during a five-year program that begins later this year.