---
Current Events
Artists Render 3D Images of Ancient Aztec Capital
September 14, 2023


Bursting from a 3D computer reconstruction is Tenochtitlan, capital of the Aztec Empire, the result of a multi-year research project by a team led by a Dutch artist. A Portrait of Tenochtitlan is the latest offering from Thomas Kole, a technical artist specializing in interactive games and installations. The Tenochtitlan presentation progresses as you scroll down the screen, emphasizing the fabled city's famous grid layout, with its canals, causeways, dykes, and bridges uniting the various neighborhoods and purpose-built parts of what was once a thriving metropolis. The artist then presents a full view of the island, as it is now and as it is envisioned to have been in the 16th Century, with views of the landscape and the downtown area and even a nighttime shot so you can fully appreciate what the Aztecs might have seen.
Oldest Known Book on British Cheese (1580s) Appears Online
September 14, 2023

A 16th Century book about cheese is now online and in the special collection of a U.K. university library. A noted food historian places its historical value quite high, as perhaps the first book to focus on a single type of food written in the English language. The book begins with a mention of the famous ancient Greek philosopher and physician Galen (and, indeed, mentions him a few more times) and then goes on to discuss curds and whey, various definitions of cheese, and the many kinds found throughout England and Wales. Also discussed are what were thought to be various medicinal properties of cheese.
G20 Summit Ends with Declarations on War, Climate, Trade
September 11, 2023

G20 leaders agreed to a joint statement, one of the goals of host leader India's Prime Minister Narendra Modi. Significantly, the statement had much to say about several subjects but little to say about the war in Ukraine. Significantly, the statement did reference the "human suffering" caused by the war but did not mention Russia's invasion, which began the war. The joint statement did reference the United Nations charter, admonishing nations from seizing territories from other nations.On Saturday, the first day of the two-day summit, the leaders, focused on climate issues, agreed to increase the use of renewable energy threefold and to target more funds for dealing with climate-related disasters. However, the leaders stopped short of reducing the reliance on coal as an energy source. The other major announcement on Saturday was of plans to create a modern-day Spice Route, increasing trade between Europe, the Middle East, and India in the way that the ancient eurasian network Silk Road did for Europe and China. In a fundamental change, the G20 leaders agreed to accept the African Union as a permanent member, on par with the European Union, which is the G20's only non-country entity.
Host India Seeks Consensus as War Overshadows G20 Summit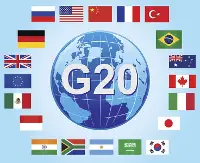 The G20, a gathering of the world's top-producing countries, is on in Delhi, India this weekend. Indian Prime Minister Narendra Modi will be the host and chairman. Modi has expressed a wish for representatives of all 20 nations to pledge to an agreement on international issues. Top of mind for most officials will be the ongoing war in Ukraine. Russian President Vladimir Putin, facing an arrest warrant on charges of international terrorism, will not be attending; Russian Foreign Minister Sergey Lavrov will represent his country at the leaders summit. As well, Chinese leader Xi Jinping will not attend, giving way to his premier, Li Qiang. (It is the first time since the G20's inception in 2008 that the head of China will not attend.) The heads of state of the other 17 member nations will attend; representing the European Union will be Ursula von der Leyen, President of the European Commission, and Charles Michel, President of the European Council. Another key issue to be pushed by Modi is expected to be debt refinancing, an area of special concern to developing nations.
4 Still-sharp Roman Swords Found in Isolated Judean Cave
September 7, 2023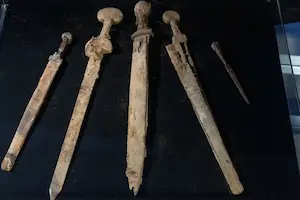 Archaeologists working in a Dead Sea cave found four perfectly preserved Roman-era swords, as sharp as they were when they were used in battle nearly 2,000 years ago. The four swords had hilts made of leather and wood and were in wooden scabbards. Experts said that the swords were of the type used by Roman soldiers who were stationed in Judea. And yet, the Israeli Antiquities Authority said that it could have been Judean rebels wielding the swords against occupying Rome, perhaps in a 1st Century B.C. uprising known as the Bar Kokhba Revolt. Under that scenario, the rebels would have hidden the swords so they wouldn't be found by Roman investigators.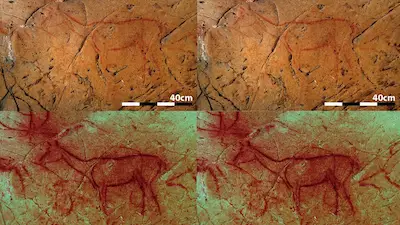 3D Photography Reveals 'Hidden' Paleolithic Cave Animal Art
September 6, 2023
Archaeologists, perhaps channeling their childhood viewing whims, have found hidden animal figures on cave walls in Spain that date back tens of thousands of years. The drawings adorn the cave of La Pasiega, which is in north-central Spain, about 260 miles from Madrid. More than 700 illustrations of animals, along with dots and lines and symbols, dot the walls of the cave, which was discovered in modernity only in 1911. Dating of the art puts it at being done more than 40,000 years ago, in the Paleolithic Era.
1st Witness to Great Fire of London Identified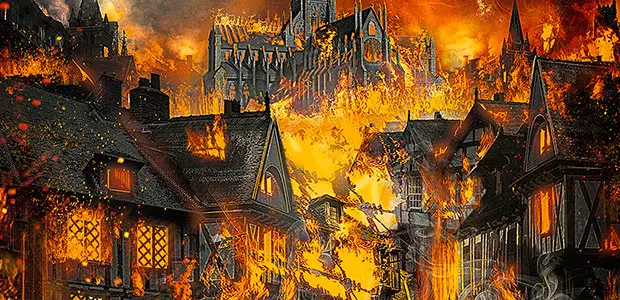 An expert has named the first person to witness the Great Fire of London. The fire began on Sept. 2, 1666, and raged for four days, devouring more than 13,000 wooden buildings, including most of the city's churches. Death toll figures range from six to 16 or perhaps a few dozen; that is for bodies recovered, and some archaeologists are convinced that the fires burned so hot (more than 2,000 degrees Fahrenheit by some estimates) that they would have incinerated some unlucky people. Most historians think that the fire began in Pudding Lane. One man who owned a bakery in that lane was Thomas Farriner. His house was the first to go up in flames during the great fire. New research of contemporary sources such as journals has convinced University of Leicester Professor of Early Modern Literature and Culture Kate Loveman, that Farriner's employee Thomas Dagger was the first to notice the blaze.