---
Indigenous Woman Statue to Replace Columbus in Mexico City
On This Site
Share This Page

---
Follow This Site


October 12, 2021
An indigenous woman has displaced Christopher Columbus in prominence in Mexico City.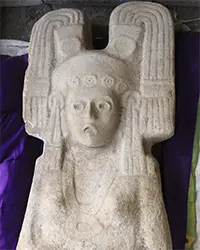 City officials have announced that the famous statue of the famed New World explorer will not return to its location on El Paseo de la Reforma boulevard, the capital city's most prominent street, in order to make way for a new statue, the Young Woman of Amajac, which predates the arrival of Columbus and others to the New World. Archaeologists unearthed the 6-foot-tall statue in Huasteca, a region of the country along the Gulf of Mexico, in January 2021. The statue is on display at the Museum of Anthropology in Mexico City.
The one due to replace the Columbus statue will be a replica, one much larger than the statue that was unearthed, officials said.
It was in October 2020 that city officials removed the Columbus statue, saying that it need restoration work. The statue, which was dedicated in 1877, had in recent years been the site of protests against the reverence that many still have for Columbus. The new home for the Columbus statue will be in American Park, in a quiet neighborhood that has not had such protests.
October 12 in America is Columbus Day, commemorating the day in 1492 that Columbus landed in the New World. Gaining in prominence in recent years has been Indigenous Peoples Day. The idea for such a day to honor not a European explorer but the peoples he "discovered" goes back as far as the late 1970s, and then to a 1990 United Nations-sponsored conference on discrimination against indigenous populations.