---
Dubai Debuts Deepest Diving Pool
On This Site
Share This Page

---
Follow This Site


July 10, 2021
Dubai has opened the world's deepest dive pool. At 196 feet, it surpasses the previous record-holder by a full quarter of the distance. (Poland's DeepSpot, at 148 feet, opened in 2020.)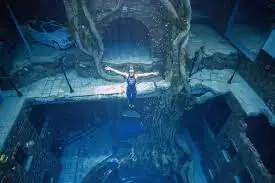 The new diving pool is part of Deep Dive Dubai, a pool that has 3.7 million gallons of fresh water, the equivalent of six Olympic-sized pools. The water temperature is 86 degrees Fahrenheit.
Sheikh Hamdan bin Mohammed bin Rashid, Dubai's crown prince and a diving enthusiast, was one of the first to try out the new pool, which will open to the public later this year.
The pool houses an underwater film studio, underwater apartments, and an underwater arcade. Safety officials will monitor divers using dozens of cameras; nearby is a 12-person hyperbaric facility.