---
Farmer Moves Stone, Changing Belgium-France Border
On This Site
Share This Page

---
Follow This Site


May 4, 2021
The stone had divided Belgium from France for more than 200 years; then, it was gone.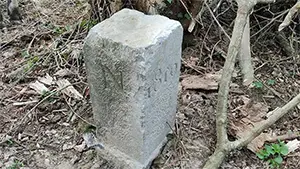 Actually, it had been moved. The stone, with the date 1819 carved into it, was part of the Franco-Belgian border established in 1820, by the Treaty of Kortrijk. European officials had labored over the particulars of the 390-mile border since the defeat of Napoleon Bonaparte at the Battle of Waterloo a few years earlier. A Belgian farmer found the stone to be in the way of his tractor and moved the stone, and with it, the boundary between the two countries.
A local amateur historian found that the farmer had moved the stone 7.5 feet, technically enlarging the perimeter of the Belgian town of Erquelinnes at the expense of the French town Bousignies-sur-Roc. The mayors of both towns found the series of events humorous and promised to avoid a border war.