One of the first references to the Titanic came out the the same year of the sinking. Dorothy Gibson, an American silent film star, had survived the disaster and played herself in Saved from the Titanic (1912).
The first sound film made about the disaster was Atlantic, released in 1929.
The first big-budget feature about the sinking of the famous ship was Titanic, released in 1953 and starring Barbara Stanwyck, Thelma Ritter, Robert Wagner, and Clifton Webb.
Five years later came A Night to Remember, starring Kenneth More and based on a book by Walter Lord.
A hit musical titled The Unsinkable Molly Brown debuted in 1964 and starred Debbie Reynolds as the title character, millionaire and women's rights activist Margaret Brown, who did indeed survive the sinking of the Titanic.
A 1979 television movie titled S.O.S. Titanic had an all-start cast, including David Janssen, Cloris Leachman, and Susan Saint James.
The following year featured Raise the Titanic, a movie that starred Jason Robards, Anne Archer, and Alec Guinness. The movie was based on a Clive Cussler book.
In 1996, the made-for-TV movie Titanic starred George C. Scott, Eva Marie Saint, Tim Curry, and Catherine Zeta-Jones.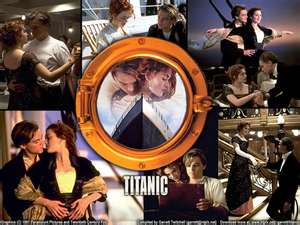 The most famous depiction of the sinking of the great ship is James Cameron's Titanic, released in 1997. Starring Leonardo DiCapiro and Kate Winslet as star-crossed, class-crossed lovers, the film was the highest-grossing film for 12 years and won 11 Academy Awards, including Best Picture and Best Director. This film has been re-released in 3D to mark the 100th anniversary of the disaster.
As with the Cussler book, the Titanic story has featured prominently in many novels. Many video games have also featured a varying range of elements of the Titanic story in their challenges.
Branson, Mo., is home to the Titanic Museum, which is half the size if the great ship itself and houses 20 galleries full of artifacts and related attractions.
Belfast, Northern Island, recently opened the Titanic Visitor Center. Another museum has recently opened in Southampton, from where the Titanic originally sailed.