---
How American Postage Stamp Subjects Are Chosen
The U.S. Postal Service, together with the Citizens' Stamp Advisory Committee (CSAC), approve about 20 new designs for commemorative postage stamps each year. The Postmaster General appoints the up to 15 members of the CSAC, who serve on a volunteer basis. The current members of the CSAC include a former Postmaster General and current and past university professors. Each year, they gather for four two-day meetings to consider any and all submissions for potential stamp designs. The number of submissions routinely numbers in the tens of thousands.
Despite the ease of an electronic submission, anyone wanting to suggest an idea for a new stamp design must make a submission in writing. (This can be via a letter, a postcard, or a petition.) The CSAC suggests making a submission at least three years before any anniversary because the process of approving and producing the new designs, after working through all of the submissions, takes about that long.
The CSAC and the Postal Service have set criteria for potential subjects to meet, including the following:
If it's a person, he or she must have been dead for two years. (The one exception to this is a former U.S. President, who can appear on a stamp one year after his or her death.)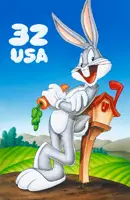 The subject must be American or related to America in some way. This can include a non-American-born person who has had a significant effect on American history of society. (An example would be Winston Churchill, who was Prime Minister of the United Kingdom during World War II. He appeared on a 5-cent stamp issued in 1965.) This can also include a fictional character. Bugs Bunny appeared on a 32-cent stamp in 1997.
Historically significant events can be honored every 50th anniversary. The same is true of statehood (although the last states were added in 1959 and so have already had their statehood issues) and of the majority military services (Army, Navy, Air Force, and Marines). Universities must wait a bit longer: The CSAC says that only at the 200th anniversary of founding can a university or similar education institution be honored and then, only on a stamped card.
A subject that has been represented on a stamp in the past 50 years will not be considered until the 50th anniversary of that feature.
Disasters will not appear as subjects on stamps.