Ed White: Apollo Astronaut, 1st American Spacewalker
---
Share This Page

---
Follow This Site


Ed White was an Air Force pilot and astronaut who recorded America's first ever spacewalk, aboard Gemini 4. He was one of three astronauts killed in the Apollo 1 launchpad fire.
White was born on Nov. 14, 1930, in San Antonio, Texas. His father, Edward Higgins White, Sr., was a major general in the U.S. Air Force. Young Ed was 12 when he went along on a flight with his father and got to flly the plane for a time. Edward Jr. graduated from high school in 1948 and followed in his father's foosteps by gaining an appointment to the U.S. Military Academy. He earned a bachelor of science degree there in 1952 and gained a commission as a second lieutenant in the U.S. Air Force. A year later, after finishing flight school, he found himself assigned overseas, at Bitburg Air Base, in then-West Germany. He flew F-86 Sabre and F-100 Super Sabre planes on NATO missions for the next nearly four years.
Returning home, he enrolled at the University of Michigan in 1958 and embarked on a master's program of study in aeronautical engineering. He earned his degree in just one year and then gained acceptance at the Air Force Test Pilot School at California's Edwards Air Force Base. After gaining his credentials, he traveled back closer to home to take an assignment at Wright-Patterson Air Force Base, in Ohio. In the end, he logged more than 3,000 hours in the air.
White had married Patricia Finegan in 1953. They had two children, Edward III and Bonnie Lynn.
White won appointment to NASA's second group of astronauts, in 1962, and was named pilot of Gemini 4. He performed America's first spacewalk on June 3, 1965, recording 21 minutes of extravehicular activity, which he enjoyed so much that he wanted to stay out longer and had to be ordered back inside. He was backup commander on Gemini 7.
In March 1966, White was named as one of three pilots to fly aboard what became Apollo 1. The other two were Virgil "Gus" Grissom, a fellow Gemini alumnus, and Donn Eisele. By the time of final testing, Roger Chaffee had replaced Eisele because the latter required surgery to fix a shoulder injury sustained during weightlessness training.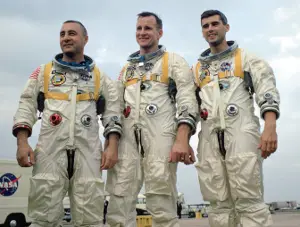 White (left, center) was in the command module, along with Grissom (left, left) and Chaffee (left, right), on Jan. 26, 1967, when a fire swept through the spacecraft, killing all three within minutes. It was White's job to open the hatch in case of emergency, and he was attempting to do that when he died. (The pressure inside the spacecraft was so high that it effectively sealed the door shut.)
White is buried at West Point Cemetery. He was posthumously awarded the Congressional Space Medal of Honor. He was the inspiration for the names of many schools, hospitals, other buildings, and parks. A photograph of White performing his space walk was included on the Voyager Golden Record.
Search This Site
Custom Search