---
Tokyo Planning 1148-foot-tall Wooden Skyscraper
On This Site
Share This Page

---
Follow This Site

February 18, 2018
A Tokyo skyscraper will commemorate the 350 anniversary of the founding of a forestry company–in 2041. It's the brainchild of Sumitomo Forestry Company, and the building will be made mostly of wood.
The Japanese Government in 2010 passed a law requiring that wood be used for all public buildings three stories or smaller; the Sumitomo project envisions a building much larger: 1,148 feet and 70 floors. It will be the country's tallest building.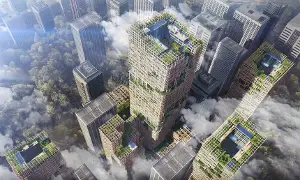 The building, known as the W350 Project, will have 10 percent steel and 90 percent wood, with the beams, braces, and columns made of a hybrid of those two materials.
The inside, all 4.9 million square feet, will be made exclusively of wood and will be made up of apartments, shops, and offices. And in keeping with the building's green focus, balconies will adorn the outside of all walls.
Current construction estimates for a total cost are ¥600 billion (US$5.6 billion).
Sumitomo Forestry began in 1691 as part of the Sumitomo Group, which dates its founding to 1611.
The tallest wooden building in the world is Brock Commons, in Vancouver; the University of British Columbia student residence encompasses 18 stories, contains housing for 404 students, and stretches 174 feet into the sky.
Other cities planning wooden skyscrapers include London, Stockholm, Vienna, which is well down the track in building HoHoTower, projected to be 274 feet tall.
The tallest wooden building in the U.S. is T3, a seven-storey building in Minneapolis.