---
Underwater Veterans Memorial Opens
On This Site
Share This Page

---
Follow This Site

August 8, 2019
Statues of servicemen and servicewomen form an underwater memorial off the Florida coast, believed to be the first of its kind in the country.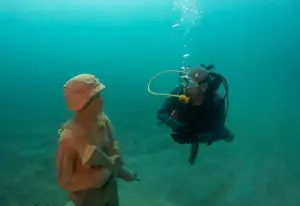 The 12 life-size concrete statues that make up the Circle of Heroes memorial honor veterans of the U.S. Army, Navy, Air Force, Marines, and Coast Guard. They are on the ocean floor, about 40 feet down, in an area that is 100 miles from the shore of Clearwater. The statues stand in a circle, in the center of which is a 4-foot-high monument containing bronze emblems of the five branches of the military. Another 12 statues are to be added by Veteran's Day next year, officials said.
A gathering of divers that included veterans who are amputees were the first to see the memorial after it opened. The ceremony featured a tribute to Vietnam Air Force veteran Dave Thomas, who built the center monument but died before the memorial opened.
St. Petersburg College Professor Dr. Heyward Mathews was the driving force behind the memorial, conceived as a way not only to honor veterans but also to provide a place of therapy and reflection for veterans who are suffering from post-traumatic stress disorder and/or depression. Mathews' nephew, former Congressman David Jolly, led the fundraising.
The memorial is also expected to be a destination for area divers, even if they aren't veterans. Officials also said that the memorial would serve as an artificial reef.