---
Barrett Confirmed to Supreme Court
On This Site
Share This Page

---
Follow This Site


October 26, 2020
The United States Supreme Court has its full complement of Justices again, after the U.S. Senate approved the nomination of Amy Coney Barrett to the high court. President Donald Trump nominated Barrett to fill the seat left vacant by the death of Justice Ruth Bader Ginsburg in September. Barrett is the high court's 115th Justice.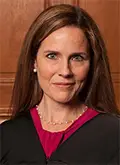 Barrett, 48, is the fifth woman named to the Supreme Court. Preceding her were Sandra Day O'Connor, Ginsburg, Elena Kagan, and Sonia Sotomayor. She was the third Supreme Court Justice nominated by Trump; the other two were Neil Gorsuch in 2017 and Brett Kavanaugh in 2018. Trump is the first President since Richard Nixon to have nominated more than two Supreme Court justices in a four-year presidential term. Nixon nominated Warren Burger, Harry Blackmun, Lewis Powell, and William Rehnquist to the Court–all in his first term in office.
Also on the high court now are the following:
Chief Justice John Roberts
Samuel Alito
Stephen Breyer
Gorsuch
Kagan
Kavanaugh
Sotomayor
Clarence Thomas.
The Senate vote on Barrett's nomination was 52–48. All 47 Democrats in the Senate voted to oppose the nomination and were joined by Susan Collins (R-Maine). The other Republicans voted to approve the nomination.
Barrett is the first Supreme Court Justice approved in a presidential election year since Justice Anthony Kennedy, approved in 1988. The only other members of the high court confirmed in presidential election years were these:
Lucius Samuel Chase and Oliver Ellsworth in 1796
William Johnson in 1804
Roger Taney and Philip Barbour in 1836
Salmon Chase in 1864 (after the election had taken place)
William Burnham Woods in 1880 (after the election had taken place)
Quintus Cincinnauts Lamar II in 1888
Melville Fuller in 1888
George Shiras in 1892
Louis Brandeis and John Hessin Clark in 1916
Benjamin Cardozo in 1932
Frank Murphy in 1940.
A Louisiana native, Barrett is the daughter of a lawyer father, Michael Coney, and schoolteacher mother, Linda, and attended Rhodes College and the Notre Dame Law School; from the latter she graduated summa cum laude. In 1997 and 1998, Barrett worked as a law clerk for Judge Laurence Silberman, a members of the U.S. Court of Appeals for the D.C. Circuit. In 1998 and 1999, Barrett clerked for former U.S. Supreme Court Justice Antonin Scalia.
After working in private practice for a few years, Barrett served in a series of educational capacities: as a visiting asociate professor at George Washington University Law School, as a visiting professor at the Unviersity of Virginia School of Law, and at her alma mater.
Trump named Barrett to the U.S. Court of Appeals for the Seventh Circuit in 2017. The U.S. Senate approved her nomination by a vote 55–43. In her three years on that Court of Appeals, she wrote 79 majority opinions, four concurrences, and six dissents.
Barrett's husband is Jesse Barrett, also a lawyer. The couple have seven children.