---
Millions of Women on Strike in Spain
On This Site
Share This Page

---
Follow This Site

March 8, 2018
Spain was a hotspot in protests associated with International Women's Day.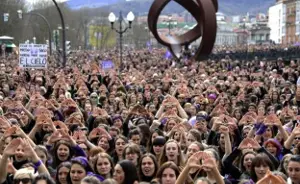 Spanish unions said that 5.3 million of that country's women had joined a 24-hour strike. Working women did not work; women who had home duties refrained from those. Organizers urged protesters not to spend money, either.
Motivation for the strike was a desire to call attention to gender violence and to wage inequality. A recent survey found that women in Spain eanred 13 percent less an hour than men who did the same work.
Among those not working were well-known media presenters on television and the radio. Penelope Cruz, one of Spain's most well-known actors, canceled planned public events.
Two of the government's five female ministers intended to work longer hours to prove a point.
Women took the streets in the hundreds of thousands in cities across the country, clogging intersections and stopping traffic in Barcelona, Bilbao, Madrid, Valencia, and many others. Among the slogans was this: "When we stop, the world stops."
Another form of protest was on two wheels: Cyclists pedalled through main streets very slowly, in what they called bibipiquetes.
Also protesting were women in other countries, including Afghanistan, India, the Philippines, and South Korea.