---
National Guard Deployment for Biden Inauguration to Top 20,000
On This Site
Share This Page

---
Follow This Site


January 12, 2021
The total number of National Guard troops on hand for the inauguration for the new President, Joe Biden, could be more than 20,000, officials said. The inauguration is January 20.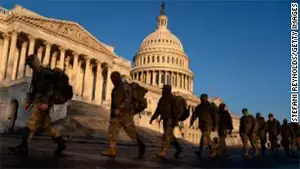 National Guard officials said that the D.C. deployment would not take away from any needs in the states. Many reports cite the possibility of further demonstrations at state capitols before or during Biden's inauguration.
After a number of angry supporters of President Trump pushed past Capitol Police and stormed into the U.S. Capitol on January 6, law enforcement officials erected a tall fence around the building and installed metal detectors just inside the building. Another element of security ahead of the inauguration is a series of road blocks and steel barriers creating a cordon of several blocks around the Capitol. Security officials have also set up road blocks around the White House.
The Secret Service is coordinating the efforts of multiple federal law enforcement agencies to prevent any armed conflict in the wake of Trump's continued refusal to accept the results of the 2020 presidential election. The President continued to allege widespread fraud and, in a speech on January 6, urged the crowd gathered to hear him speak to take matters in their own hands. Many did just that, marching to the Capitol and gaining access to some very secure areas, including the Senate chamber, disrupting the process of certifying the results of the Electoral College tally, cementing Biden's election victory.
Capitol officials also said that parking areas in the downtown of the District of Columbia would be inaccessible from Friday.