---
Medieval Chess Piece Bought for $6 Sells for $929,000
On This Site
Share This Page

---
Follow This Site

July 2, 2019
A medieval chess piece has sold at nearly $1 million at auction; the seller paid $6 for it when he bought it 55 years.
The object was the Lewis Warder, part of the Lewis Chessmen set, most of which is in the British Museum. The 3.5-inch-high piece depicts a bearded person wielding a sword and holding a shield. It was the medieval equivalent of a rook, or castle.
The seller was a descendant of the person who bought the chess piece for $6 in 1964 and, unaware of its worth, kept it in a drawer. When the owner died, his family asked the auction house Sotheby's to assess the piece and then put the item up for sale. It was the first time that a Lewis piece has gone up for auction. The buyer, who remained anonymous, paid $929,000.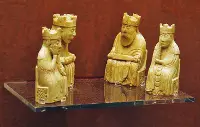 A chance discovery on the Isle of Lewis, in Scotland's Outer Hebrides, in 1831 resulted in the gathering of 93 pieces found altogether. Now, 82 of those pieces are displayed in the British Museum and 11 are housed in the National Museum of Scotland.
Historians think that the pieces were carved in Trondheim, Norway, in the 12th Century; at that time, the Outer Hebrides and the rest of the Western isles were part of the Kingdom of Norway. Walrus ivory and whale teeth make up the majority of the material used to carve the pieces.