---
High-tech Scans Find Ghost Image in Leonardo Painting
On This Site
Share This Page

---
Follow This Site

August 16, 2019
Scientists using cutting-edge technology have found a hidden image underneath a famous Leonardo painting. It's not some kind of code, though. Instead, it's the original composition.
The painting by the acclaimed Renaissance Man is known as Madonna of the Rocks or The Virgin of the Rocks. Leonardo completed two versions of the painting. The earlier version (left image at right), done in 1483–1486, hangs in the Louvre in Paris; the later version (right image at right), done in 1495–1508, hangs in the National Gallery in London. Scientists examined the London version.
The painting shows Jesus and his mother, Mary (known by various titles, including the Madonna and the Virgin Mary), along with John the Baptist. Both Jesus and John are infants. An angel, said to be the Archangel Gabriel, appears as well. Rocks in the background complete the origin of the painting's title. The meeting is a non-Biblical episode that has become part of the Christian tradition.
The two versions show the people and elements primarily the same: Mary has one arm around the infant John, as if to be ushering him into the presence of her son, over whom she holds her other hand, as if in blessing. The angel sits behind the infant Jesus, who appears to blessing John.
The two versions do have some differences:
The later version includes a few elements to ensure that viewers know which infant is which: Jesus is depicted with a halo, and John is depicted with a cross.
The angel in the earlier version is clearly pointing at John.
The colors differ slightly between the two versions as well.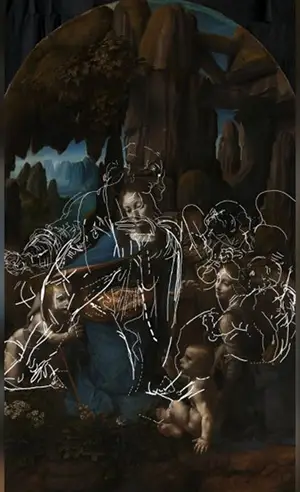 In 2005, scans of the painting revealed an earlier version underneath. Reusing canvases was common in Renaissance times, and Leonardo was no exception. The researchers used a trio of high-tech scanning techniques to reveal the underpaint: infrared reflectography, X-ray fluorescence, and hyperspectral imaging–all of which served to reveal images not visible to the naked eye. The result is a ghostly prototype that, if completed, would have been a significant departure from the earlier version. For example, the scans show that in the ghost imaging, Mary is looking the other way and is looking directly at her son. In the end, Leonardo, reconsidering, produced something closer to the original, in which Mary appears more reflective and is looking at neither infant.
London's National Gallery will feature the results of the study in an exhibition that will run from Nov. 9, 2019 to Jan. 12, 2020.