---
Dallas Seavey Wins Record-tying Fifth Iditarod
On This Site
Share This Page

---
Follow This Site


March 15, 2021
Dallas Seavey won his fifth Iditarod Trail Sled Dog Race, crossing the finish line first in a time of 7 days, 14 hours, 8 minutes, and 57 seconds. He is now tied for the most victories in the iconic race with Rick Swenson.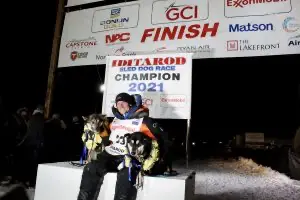 Seavey took control and cruised to victory. Veterans Aaron Burmeister, nearly three hours later, and Brent Sass, about an hour after that, finished second and third; each recorded his best-ever finish.
Seavey in 2005 became the youngest ever competitor in the 1,000 mile race. He won in 2012 and then again in 2014, 2015, and 2016.
Competitors in a field lessened by COVID-19 restrictions competed on a first-ever out-and-back course, which race officials named the Gold Trail Loop. They began on the Southern Route but turned around at the Iditarod checkpoint and finished at Deskha Landing. The new course covered 848 miles, more than 100 miles shorter than the traditional course.
Also because of pandemic restrictions, prize winners will receive their awards at a later date. Officials have canceled the traditional awards banquet.
The event, which began in 1973, commemorates the 1925 Serum Run a desperate delivery of life-saving medicine across the frozen wilderness to children in Nome.