---
Paris to Open World's Largest Rooftop Farm
On This Site
Share This Page

---
Follow This Site

August 13, 2019
It's a farm in the sky, almost.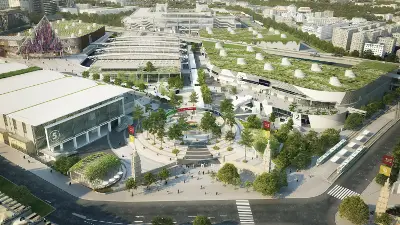 Workers in Paris are helping to create what will be the largest urban farm in Europe–on top of a six-story building in the heart of the city. It's part of a redevelopment of the Paris Expo Porte de Versailles, and this part will be the world's largest rooftop farm, covering 150,695 square feet. Officials aim to employ 20 gardeners to help grow more than 30 different species of plant life and aim to produce more than 600 pounds of fruit and vegetables in the height of the growing season.
In an effort to cut down on pollutants, arm officials will use aeroponic methods that make use of a closed water system and grow such fruits as vegetables in vertical containers, avoiding the use of soil. Such methods are in use in other places in the city (like the Marais) and in other places around the world.
Plans are for the farm to open in spring 2020. Near the farm is to be a restaurant and bar that can seat 300 people, all of whom can view menus featuring seasonal produce grown onsite, using organic methods. The overall redevelopment is part of a popular exhibition complex, which includes a surrounding mile-long green zone to act as a sound and visual boundary between the development and the surrounding neighborhood. In the vein of produce-sharing,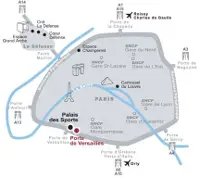 developers will also offer local residents the chance to lease their own small fruit/vegetable bed on the farm.
The development is the in 15th arrondissement of Paris, on the left bank of the River Seine. The city has 20 such administrative districts. The 2,101-acre 15th, called Vaugirard, is also home to the Tour Montparnasse, the city's tallest skyscraper.
As a whole, the City of Paris has embarked on the Parisculteurs project, a climate and biodiversity policy that aims to plant 100 hectares of vegetation across the city by the end of 2020.