---
Philadelphia Art Teacher Sets Record for Largest Drawing
On This Site
Share This Page

---
Follow This Site


February 13, 2021
A Philadelphia-based artist has completed the world's largest individual-created drawing.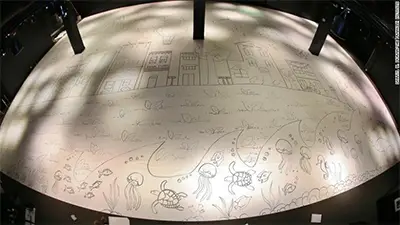 Dyymond Whipper-Young, an artist and art teacher, used black markers in creating the 6,450-square-foot drawing at the Franklin Institute's Mandell Center. It took her 63 hours to do; she finished on Jan. 15, 2021.
Whipper-Young's drawing is part of the Philadelphia institute's Crayola IDEAworks: The Creativity Exhibition, which just opened. The giant drawing includes pictures, doodles, and depictions of land, sea, and space.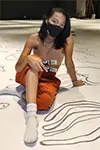 Whipper-Young, 24, specializes in drawing, painting, and sculpture and has shown her art works in more than 50 events across the U.S. She has given instruction to student artists, as a guest lecturer at Temple University and as an instructor with the Philadelphia Mural Arts Program. Her current job is teaching at Philadelphia's Independence Charter School West.
The previous record, set just last year, was 6,100 square feet, the size of a drawing done by FRA!, an Italian artist. He created his art work in November 2020 in the central square of Altomonte, Italy.
The Franklin Institute, named for famed American Renaissance Man Benjamin Franklin, dates to 1824 and has played a role in promoting science, invention, and technology, including as a founding organizer of the Philadelphia Science Fair.