---
First Pets Return to White House
On This Site
Share This Page

---
Follow This Site


January 24, 2021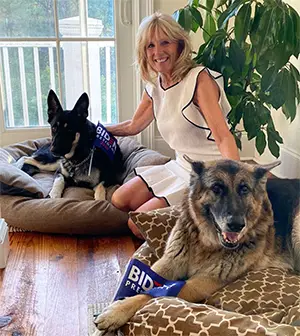 The White House has pets again.

Champ and Major, dogs of President Joe Biden and First Lady Jill Biden, have taken up residence in the President's house. Both are German shepherds. Champ is 12, and the Bidens acquired him in 2008, after Joe was elected Vice-president. Major, adopted in 2018 from the Delaware Human Association, is the first rescue dog living in the White House. The pair have their own Instagram account.

The dogs are the first pets since 2017, when outgoing President Barack Obama and First Lady Michelle Obama took their Portuguese Water Dogs Bo and Sunny with them. Donald Trump was the first President in more than a century to avoid having pets while living in the White House.

American Presidents throughout the history of the country have had pets. This goes all the way back to George Washington, who owned several dogs, a donkey, and a horse. Dogs and cats have been familiar as presidential pets. Horses and birds have also been common.