---
Investigation into Russian Curler's Failed Drug Test
On This Site
Share This Page

---
Follow This Site

February 19, 2018
Aleksandr Krushelnitckii has left the Winter Olympic Games after testing positive for the banned substance meldonium. He and his wife, Anastasia Bryzgalova, won the bronze medal in mixed double curling; it was the debut of the event and Russia's first ever medal in the sport.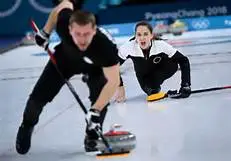 Meldonium is a heart drug that boosts endurance and is the World Anti-Doping Agency's banned list. Athletes are tested twice, creating an "A" sample and a "B" sample; the "B" sample is tested only if the "A" sample is positive. After the "B" sample test, the Court of Arbitration for Sport (CAS) opened an investigation into the athlete. The CAS has the power to take away medals from both athletes. Krushelnitckii is in Seoul, awaiting a decision by the CAS.
Russia has had no official presence at the PyeongChang Games, the result of a ban handed down by the International Olympic Committee. Athletes from Russia have been competing under the Olympic flag and wearing uniforms that say Olympic Athlete from Russia (OAR). In order to compete, athletes had to pass another series of drug tests.
With a week to go, OAR athletes have won 11 medals, three silver and eight bronze. Russia won 29 medals (11 gold, 9 silver, 9 bronze) in Sochi, as the host country for the 2014 Olympics. A total of 232 Russian athletes competed in Sochi; the number of OAR athletes in PyeongChang is 169.