---
The African Union
Share This Page

---
Follow This Site


---
The African Union is a 55-member body that looks to address issues common to all African nations.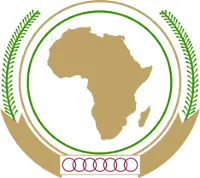 Member states founded the African Union (AU) on May 26, 2001, in Addis Ababa, Ethiopia, and its operations began the following year, on July 9, 2002, in Durban, South Africa. Egyptian President Hosni Mubarak was the first head of the African Union.
The Ethiopian capital is the political center of the AU. Most of the body's important decisions are made as a result of a semi-annual meeting of the heads of state called the Assembly of the African Union, which meets once a year. A head of state from of the member states serves as the Chairperson of the AU for a year. The chairperson represents the AU at international meetings, including the G-8 and the G-20. The post rotates among the continent's five geographic regions: Central, Eastern, Northern, Southern, and Western. The members of each geographic region are these:
Central
Burundi
Cameroon
Central African Republic
Chad
Congo
Democratic Republic of Congo
Equatorial Guinea
Gabon
São Tomé and Príncipe
Eastern Comoros
Djibouti
Ethiopia
Eritrea
Kenya
Madagascar
Mauritius
Rwanda
Seychelles
Somalia
South Sudan
Sudan
Uganda
United Republic of Tanzania
Northern
Algeria
Egypt
Libya
Mauritania
Sahrawi Republic
Tunisia
Southern
Angola
Botswana
Lesotho
Malawi
Mozambique
Namibia
South Africa
Swaziland
Zambia
Zimbabwe
Western
Benin
Burkina Faso
Cape Verde
Côte d'Ivoire
Gambia
Ghana
Guinea Bissau
Guinea
Liberiai
Mali
Niger
Nigeria
Senegal
Sierra Leone
Togo
The AU also has these other official bodies:
the African Union Commission, the secretariat to the political bodies
the Executive Council, comprising foreign ministers from the member states
the Pan-African Parliament, made up of 265 representatives of the various member states, elected by each state's national legislature
the Permanent Representatives Committee, comprising ambassadors from the various member state
the Peace and Security Council: The AU has a collective peacekeeping force, which has been deployed at various times to Burundi, Somalia, and Sudan.
The AU had its origins in previous pan-African organizations, including the First Congress of Independence African States, in 1958; the Organization of African Unity, founded in 1963; and the African Economic Community, founded in 1981.