---
King James IV of Scotland
Share This Page

---
Follow This Site


---
King James IV of Scotland ruled his country for 25 in the late 15th and early 16th Centuries. An early friend of England, he became embroiled in Continental warfare, turned on England, and died on the battlefield.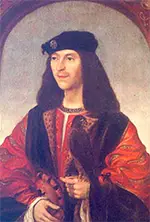 He was born on March 17, 1473, the firstborn son of the reigning monarch, King James III, and Margaret of Denmark. Young James had a royal education and spoke several languages, including Danish, English, Flemish, French, Gaelic, Italian, Latin, and Spanish. He developed an early appreciation for the arts and continued to support them during his reign.
The king had come to an arrangement with England's King Edward IV in 1474 that saw 1-year-old James betrothed to Edward's daughter Cecily, who was then just 5. That alliance brought a truce between the two countries that lasted five years, and the two countries went to war in 1480. King Edward's brother Richard (the future King Richard III) arrived in Scotland at the head of a large army. When King James, supported not by his main nobles but by his hand-picked commanders, rode out to meet the English army, he was captured by a group of nobles and taken to Edinburgh Castle. The English army continued the invasion but, unable to take Edinburgh, returned to England. On the way, they took the oft-fought-over Berwick-Upon-Tweed, making it a permanent part of England.
King James regained his throne three years later and set about rewarding his favorites and punishing those who had opposed him. He also grew estranged from his wife, who didn't appreciate his warlike tendencies. She lived apart from him, in Stirling, and died in 1486.
James eventually decided that he wanted his second son, also named James, to succeed him. His oldest son James went over to the opposition, which by 1488 was considerable. James raised an army, the opposition raised an army, and the two sides met at the Battle of Sauchieburn, near Stirling, on June 11. During the battle, the king was thrown from his horse and later died.
Thus it was that King James IV ascended the throne on the very day his father died, June 11, 1488. He felt some guilt for the role that he played in his father's death and for the rest of his life wore a celice, a kind of metal chain, around his waist. He didn't marry Cecily of York, but the idea of his marrying an English princess did appeal to not only the king but also many of his supporters.
The new King James put down a rebellion in 1489 and made it known that he supported the English pretender Perkin Warbeck, even invading England for a brief time in 1496. On Jan. 24, 1502, James agreed to the Treaty of Perpetual Peace, an official end to the warfare between the two countries. Agreeing on behalf of England was King Henry VII, who pledged his oldest daughter, 12-year-old Margaret, as part of the deal. The royal couple were unofficially married the following January, with the Earl of Bothwell standing in for James IV. Margaret and James met each other for the first time on Aug. 3, 1503 and were married five days later, at Holyrood Abbey. They eventually had six children, only one of whom survived into adulthood.
As king, James encouraged the pursuit of arts and sciences. He invited Highland musicians and bards to perform at his court. He had a printing press brought to Scotland in 1505. He encouraged the first complete translation of Virgil's Aeneid in the northern Europe. He also encouraged the establishment of an alchemy workshop at Stirling Castle.
Henry VII died in 1509, and his oldest son succeeded him, becoming King Henry VIII. His sister was Margaret, James's wife. The new king went to war in France in 1513 and left his wife, Catherine of
Aragon in charge of the kingdom and the home guard. James chose that time to invade northern England. The two armies met at the Battle of Flodden Field, near Branxton, Northumberland, on Sept. 9, 1513. (This was yet another instance of the Auld Alliance, a mutual defense agreement between France and Scotland.) The English forces, with Catherine at their head, won the day, and among the nobility and other dead that day was King James himself. Succeeding him on the throne was his 17-month-old son, who became King James V.