---
Charles VII: Holy Roman Emperor, King of Germany
Share This Page

---
Follow This Site


---
Charles VII was Holy Roman Emperor for a time during the first half of the 18th Century. His reign was marked by controversy and war.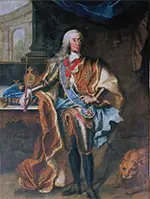 He was born on Aug. 6, 1697, in Brussels. His father was Maximilian II Emanuel, and his mother was Theresa Sobieska. Both of his parents came from royal lines: His father was Elector of Bavaria, and his mother's father was the Polish king John III Sobieski.
Maximilian Emanuel sided with France and Spain in the War of the Spanish Succession, fighting against Austria and its allies in the early part of the war. After the French victory at Höstädt in 1704, Maximilian fled to the Spanish Netherlands; during that time, Charles and his mother and siblings lived in Munich, where they had moved in 1701. It was only after the war ended that the family was reunited. By this time, Charles was of an age to rule in his own right, and he prepared to do so, touring Italy and fighting with Bavarian forces in the Austro-Turkish War, in 1717.
Charles married Archduchess Maria Amalia of Austria on Oct. 5, 1722. Her father was Joseph I, who had been Holy Roman Emperor until his death in 1711. Joseph and his brother Charles, who succeeded him on the imperial throne as Charles VI, had agreed to a Mutual Pact of Succession, by which they agreed that they would both support the succession to the imperial throne of each other's daughters. Charles VI went further, issuing the Pragmatic Sanction in 1713, solidifying this arrangement by imperial decree. He was in the process of convincing other European powers to recognize the decree when his niece Maria Amalia married young Charles. Bavaria had agreed to honor the Pragmatic Sanction, and so the marriage wasn't necessarily a means for Charles to take over the imperial throne.
Maximilian Emanuel died in 1726, and his son Charles took over as Elector of Bavaria. Charles continued his father's good relations with both France and the Holy Roman Empire. However, he had to choose sides when Charles VI died and he chose to ally himself with France and Spain, rejecting the Pragmatic Sanction and the legitimacy of Maria Theresa, who had declared herself head of the Empire after the death of Charles VI, her father.
Young Charles took an active role in the ensuing War of Austrian Succession, leading an invasion of Upper Austria and targeting Vienna. The shifting priorities of his allies made that impossible, but Charles took advantage of the seizure of Prague to get himself crowned King of Bohemia in December 1741 and then ascending to the German throne the following month. It was on Feb. 12, 1742, that he was crowned Holy Roman Emperor. He had become the choice of the anti-Habsburg faction to lead their cause against Maria Theresa. He had the support of Great Britain's King George II, even though Britain was technically Austria's ally.
Charles's was a short-lived triumph, however, as the realities of war intruded on his reign. Austrian troops scored a series of smashing victories not long afterward, overrunning Bavaria and convincing Charles to flee to Frankfurt. He watched from afar as Maria Theresa's forces gained the upper hand, seizing most of Bohemia.
The war was long and deadly, and Charles's allies had their day, retaking Bavaria in 1743, allowing Charles to return to Munich for a time. He both lost it and won it again in short order, returning for good in October 1744. With the fighting continuing, Charles died of gout on Jan. 20, 1745, at Nymphenburg Palace.
Charles and his wife, Maria Amalia, had had seven children, of whom survived into adulthood: Maria Antonia (1724), Maximilian (1727), Maria Anna (1734), and Maria Josepha (1739).