---
SCLC: Emphasis on Civil Disobedience
Share This Page

---
Follow This Site

The Southern Christian Leadership Conference (SCLC) was, despite its name, not a onetime event but an ongoing effort across the United States to promote civil rights for African-Americans.
The first president of the SCLC was its most famous member, Martin Luther King, Jr. He and 59 other ministers and civil rights leaders met in Atlanta on Jan. 10–11, 1957, just a month after the end of the Montgomery Bus Boycott, to form the organization. For a long time, Ella Baker, future founder of the Student Nonviolent Coordinating Committee, was the SCLC's only staff member.
Unlike the more well-known and much older NAACP, which preferred lawsuits and legislative lobbying, the SCLC stressed the importance and efficacy of civil disobedience and insisted on nonviolent means to achieve those ends.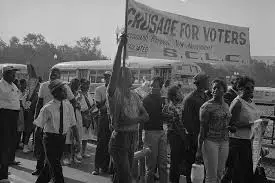 SCLC members were involved in the sit-in protests of the early 1960s and the Freedom Rides of 1961. That same year and the next, the SCLC lent its organizational efforts to the Albany Movement, a protest against segregation in Albany, Ga.
The SCLC then rose to prominence with a high-profile 1963 nonviolent campaign against the law enforcement of Birmingham, Ala. Further SCLC-organized demonstrations took place in St. Augustine, Fla., in 1964 and, more famously, in Selma, Ala., in 1965.
SCLC efforts in those demonstrations and in the 1963 March on Washington played a large part in convincing Congress to pass and President Lyndon B. Johnson to sign the Civil Rights Act of 1964 and the Voting Rights Act of 1965.

A violent race riot in Watts, a Los Angeles neighborhood, in 1965 convinced the SCLC leadership to campaign against urban poverty as well as racial discrimination. One outcome of this was the Poor People's Campaign, a 1967 occupation of parts of Washington, D.C., by some of the poorest people in the country. Other efforts involved job creation efforts in Atlanta and Chicago.
King was killed in 1968, but the SCLC carried on, with Ralph Abernathy and then Joseph Lowery assuming the presidency of the organization. Martin Luther King III led the SCLC in 1997–2004. Subsequent presidents ahve been Fred Shuttlesworth; Charles Steele, Jr.; and Howard W. Creecy, Jr.