Neil Armstrong: Giant Leap for Mankind
---
August 26, 2012
Neil Armstrong, the first human to walk on the Moon, died in Cincinnati, Ohio, from complications following heart surgery. He was 82.
Armstrong became famous the world over for his famous "one small step for man, one giant leap for mankind," words he uttered after climbing down the nine steps of the ladder leading from the Apollo spacecraft to the surface of Earth's Moon and setting foot on another world for the first time in human history. A private person, he cherished but largely shunned the limelight that followed, preferring to return to the quiet life he had known before.
Armstrong was born in the small town of Wapakoneta, in Ohio, on August 5, 1930. One of his main interests while he was growing up was flying, and he pursued that interest with a passion, earning a pilot's license when he was 16. Another of his interests was Scouting, and he advanced to the highest rank, Eagle Scout.
His collegiate degrees, from Purdue University and the University of Southern California, were in aeronautical engineering and aerospace engineering, respectively. In the middle of his studies at Purdue, he joined the Navy and served in the Korean War, chalking up 78 combat missions during the three-year Cold War conflict.
During his second stint as a student at Purdue, Armstrong met the woman he would marry, Janet Shearon. They married in 1956 and had three children, one of whom died of pneumonia at age 6.
Armstrong next served as a test pilot, logging more than 900 flights at the Dryden Flight Research Center, on California's Edwards Air Force Base. He joined the Astronaut Corps in 1962, and his first spaceflight was aboard Gemini 8, in 1966. The second civilian in space, he almost didn't return to Earth, after a thruster malfunctioned threatened the mission.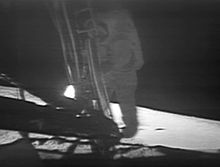 His second spaceflight was more dramatic, as he and Buzz Aldrin became the first two humans to walk on the Moon. They spent more than two hours on the lunar surface, doing experiments and collecting Moon rocks to bring back to Earth.
He served with NASA for another couple of years, then resigned, preferring to return to academic life. He taught engineering at the University of Cincinnati for several years, then retired from working life as well as from public life. He declined several appeals to enter politics, preferring to spend time on his farm.
Armstrong was divorced from Janet in 1994 and married Carol Knight later that year. She is his surviving widow.
Neil Armstrong received many honors in his lifetime, including the Presidential Medal of Freedom, the Congressional Space Medal of Honor, and the Congressional Gold Medal. He was a member of the U.S. Astronaut Hall of Fame and the Aerospace Walk of Honor. Dozens of schools across the U.S. are named for him, as are airports and museums. Further afield, his name appears on a lunar crater and an asteroid.