---
The First Winter Olympics
Share This Page

---
Follow This Site


---
Part 2: How the Games Began
The organizers of the modern Olympics, which began in 1896, wanted to have winter games as well. The trouble was that they couldn't find a venue that would support the kinds of sports that they wanted. Also, the leaders of the countries who had gathered for the 1896 Olympics couldn't agree on how the games would be organized. Norway, for instance, wasn't a part of the 1896 Olympic Games but certainly wanted to be a part of any Winter Olympics. The Norwegians, in particular, wanted to make sure that the Olympics were contested in a spirit of amateurism and purity of sport, far from the money-driven spectacle that today's Olympics have become and partly what the "Summer" Olympics already were by that time.
France had a tradition of putting on international skiing events, as far back as 1907. The first events at Chamonix, site of the 1924 Winter Olympics, took place in 1908. They were called the Winter Sports Week, and 2,000 spectators came to watch. Four years later, another Sports Week in the same location drew more than 12,000 visitors. The International Olympic Committee, seeing the success of the event in terms of spectator population, voted to have an International Winter Sports Week in Berlin in 1916. It never happened.
Scandinavian athletes, however, had their own events, including a largely successful Nordic Games in Stockholm, Sweden, first run in 1901. It took some convincing to get athletes from Norway, Finland, and Sweden to show up for the 1924 Olympics, and French organizers did it in part by not calling it the Olympics. It was instead called the International Winter Sports Week. Medals given out weren't "official" Olympic medals, although French organizers arranged for athletes to swear to the Olympic oath before participating.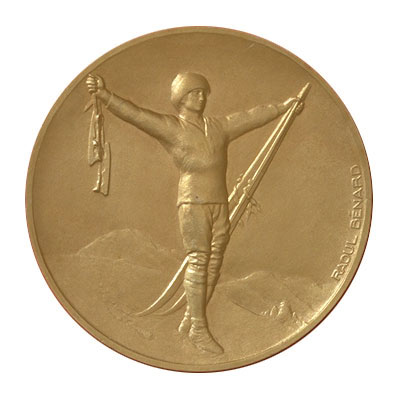 During the Sports Week, leading officials of the attending nations got together and formed an organization to represent skiing interests, the Federation Internationale de Ski (FIS). The very next year, the FIS voted to recognize the 1924 International Winter Sports Week as an "official" Olympics. Retroactively, the medals handed out at Chamonix in 1924 were the first-ever Winter Olympics medals.
First page > Action at the Games > Page 1, 2