"White Christmas"
---
The best-selling song of all time is "White Christmas," wirtten by famed songwriter Irving Berlin and made famous by noted crooner Bing Crosby.
The Guiness Book of Records lists the Crosby version as having sold more than 50 million copies around the world. Other estimates are that the song itself, in all of its more than 500 renditions (in several languages), has sold more than 125 million copies worldwide.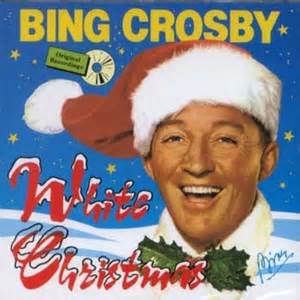 No one account of the writing of this famous song exists. Among the location claimants are the La Quinta (Calif.) Hotel and the Arizona Biltmore Hotel. Crosby first publicly performed the song on the 1941 Christmas Day radio show The Kraft Music Hall. The following year, Crosby went into the Decca Records studio for a commercial recording, with backing from the Ken Darby Singers and the John Scott Trotter Orchestra. Berlin himself said that he told his secretary the following: "Grab your pen and take down this song. I just wrote the best song I've ever written — heck, I just wrote the best song that anybody's ever written!"
The result was a hit, not least because it was included in the Crosby-Fred Astaire movie Holiday Inn. (Crosby, in the film, sang the song as a duet with Martha Mears, who was a late studio dubbing replacement for the film's female star, Marjorie Reynolds. The film's producers had originally wanted Reynolds herself to sing it as a solo.)
The song became a runaway hit, topping music charts nationwide, including 11 weeks as the No. 1 song on the vaunted Billboard charts. The song won the Academy Award for Best Original Song in 1942.
Decca Records re-released "White Christmas" in two subsequent years, 1945 and 1946, and the song topped American music charts in those years as well, becoming the only single ever to be No. 1 in three different years. Partly because of this, the master recording became damaged. Crosby went back into the Decca studios, again with the Ken Darby Singers and the John Scott Trotter Orchestra, and recorded another version. This 1947 recording is the one familiar to most people today.
The song has retained its popularity in the decades since its release. A 1954 film of the same name, also starring Crosby, topped the box office charts that year.
Even though the familiar version evokes warmth amid Christmas snow, Berlin's first stanza suggested anything but. Often dropped, the opening words are these:
The sun is shining, the grass is green,
The orange and palm trees sway.
There's never been such a day
in Beverly Hills, L.A.

But it's December the twenty-fourth,
And I am longing to be up North.

Here are the lyrics as sung originally by Bing Crosby:
I'm dreaming of a white Christmas
Just like the ones I used to know
Where the tree-tops glisten and children listen
To hear sleigh bells in the snow
I'm dreaming of a white Christmas
With every Christmas card I write
"May your days be merry and bright
And may all your Christmases be white"
I'm dreaming of a white Christmas
With every Christmas card I write
"May your days be merry and bright
And may all your Christmases be white"
May your days be merry and bright
And may all your Christmases be white