Reindeer and Christmas
---
The association of reindeer with Christmas goes back many years.
Reindeer are still to be found in Lapland and other areas far to the north. People living in those areas still count on reindeer to pull their sleds in order to transport heavy things. Reindeer were once found all over Europe, as evidenced by cave paintings found in several European areas.
The first published reference of reindeer in conjunction with Santa Claus is one of two instances in the early 19th Century, both poems.
What is generally agreed on is that the most popular first reference of Santa Claus and his accompanying reindeer was the 1823 poem "A Visit from St. Nicholas," a long poem by Clement Clark Moore that is commonly titled "The Night Before Christmas." This poem was originally published in the Troy Sentinel.
Moore in that poem says that "St Nick" is in a miniature sleigh drawn by eight tiny reindeer. Moore even gives these reindeer names: Dasher, Dancer, Prancer, Vixen, Comet, Cupid, Donner, and Blitzen.
The names of the last two in the last have changed through the years, morphing between Dutch derivations, German derivations, and English derivatives. The Dutch words for thunder and lightning were "Dunder" and "Blixem." The German equivalents were "Donder" and "Blitzen."
The most famous fictional reindeer was Rudolph, who appeared on the literary scene a full century after the first eight. The story of Rudolph was first published in a book written by Robert L. May, in 1939. May was a copywriter at Montgomery Ward, a company that specialized in a chain of department stores across the U.S. May envisioned the book as a gift for Ward to give children during the Christmas season.
In the story, Rudolph is an outcast because of his red nose, which makes him different from every other reindeer. May later said that he based Rudolph's story in part on his own childhood, which was marked by similar behavior from other children he knew toward the small, slight, shy boy that May was.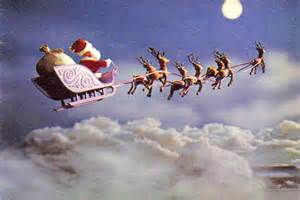 Rudolph emerges the hero when Santa Claus takes advantage of Rudolph's shiny red nose to see through the Christmas Eve fog and finish the rounds of presents-giving. And it is that element of the story that has been emphasized through the years, especially since the creation of a song in Rudolph's honour.
Johnny Marks, May's brother-in-law, wrote "Rudolph the Red-nosed Reindeer" in 1949. He used May's story as the basis for the song but then changed a few things, including the name of one of the reindeer. For some unknown reason, Marks changed "Donder" to "Donner," and it is the latter name that has stuck.
Famous singer Gene Autry recorded Marks's song, and 2 million copies later the song was a hit. The song has been popular every year since its inception.
An illustrated version of May's book found screen time as a nine-minute short film, shown on American movie screens in 1948. A longer stop-action version of the story appeared on television screens in 1964.