Christmas Markets
---
Christmas markets dot the European landscape in the weeks of December. At these (largely) open-air markets, visitors can find a host of experiences, including singing of and dancing to Christmas songs, re-enactments of the story of Jesus, and stalls selling all manner of foods, drinks, and wares.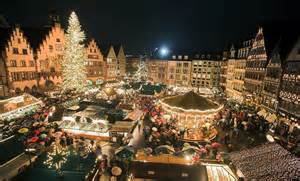 The Christmas market is thought to have been first presented in what is now Austria, France, Germany, and Italy, in the early Middle Ages, perhaps as far back as the 13th Century. The idea spread throughout the Continent and to the United Kingdom (and to the United States, courtesy of German immigrants).
The markets are commonly held in the city square or nearby, with normally busy streets being cordoned off in order to facilitate foot traffic for the market. Stalls number from the dozens to the several hundreds.
The Christmas markets are generally more populous (in number and attendance) in Germany. In a few German cities, attendees at the Christmas market number in the millions.
Among the nonstandard Christmas markets is the one to be found in caves underneath the medieval Dutch town of Valkenburg. The caves are 2,000 years old; the market isn't quite that old.
Christmas markets vary in their duration. Some last four days; some last four weeks. Some start in late November; some close in early January.