Christmas Cards
---
The Christmas card in its current form is a relatively recent phenomenon, dating to 19th-Century England.
The practice for many years had been for people to write letters to one another, at Christmas and at other times of the year. Coming near the end of the calendar year, Christmas proved to be a popular time for people to want to write letters.
A British man named Henry Cole had invented the "penny post," a mail service that required a penny to send a piece of mail, in 1840. His creation of the Christmas card was a method of promoting the penny post.
Cole enlisted his friend John Callcott Horsley, an illustrator, to design an image or two to appear on a small card to accompany the now-familiar "Wishing you a Merry Christmas and a Happy New Year." Horsley devised a three-part card. On the left side and right side were scenes of people giving food and clothing to the poor; in the middle was a family enjoying food and drink. Cole and Horsley had more than 2,000 cards printed and sold them for a shilling each. (At the time, a shilling was worth 12 pennies.)
The cards proved popular, and people bought them and sent them round the country. In the years following, Christmas cards showed blooming flowers, fairies, and other symbols of spring, the season that follows Christmas in North America. Other popular images at the time were images of children and animals. Scenes showing wintry conditions and religious images came later.
The first American Christmas card appeared in 1873, from lithographer Louis Prang and his print business, Prang & Mayer. Christmas cards proved very popular in America as well as in England, and the card-and-envelope combination soon had to compete with the Christmas postcard.
In America, especially, but also in England, images of Santa Claus, snowmen, and horse-drawn sleighs were just as likely to appear on Christmas cards as images relating to the Christian celebration of the holiday. Some secular cards included Santa's greeting of "Ho ho ho"; some religious cards included Bible verses. Other cards avoided Santa and Jesus altogether, opting for the noncommittal "Season's greetings."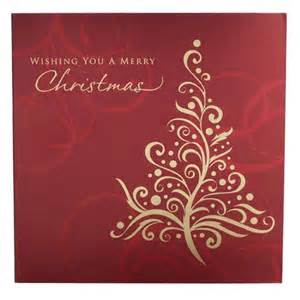 Christmas remains far and away the holiday for which most people send greeting cards. Despite the appearance of e-cards, email, and other alternatives, Americans send more than 2 billion Christmas cards each year.
Queen Victoria began sending Christmas cards from the royal family to English people in the 1840s. The first presidential card was sent by Dwight D. Eisenhower, in 1953.
Many charities find Christmas cards to be a strong source of fund-raising.
Not all Christmas cards are commercially produced. A great many people make their own Christmas cards, and many hand-deliver them, saving money on the delivery cost as well as on the production cost.