---
Titanic Survivor Letter Sets Record at Auction
On This Site
Share This Page

---
Follow This Site

October 22, 2017
A famous letter that survived the sinking of the Titanic has set a record at auction.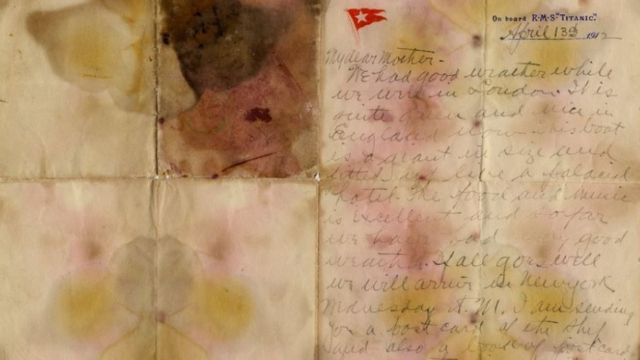 The only known letter on Titanic notepaper to have gone into the Atlantic and come back out again sold for 126,000 pounds (US$166,363). American businessman Alexander Oscar Holverson wrote the letter on April 13, 1912, the day before the famed ocean liner hit the iceberg that caused its doom. He and his wife, Mary, had boarded the ship in Southampton, bound for their home in New York. He wrote the letter to his mother.
Mary Holverson survived the sinking of the ship; Oscar Holverson did not. He had the letter inside a pocket book. The letter suffered some water staining, but the writing is still visible. Holverson's mother, Rachael Holleque, eventually received the letter.
The auctioneer, Andrew Aldridge, would say only that the buyer was British and submitted the winning bid by phone. Aldridge has auctioned many other Titanic items, including a violin being played by one of the musicians as the ship sank.
The previous world record for a Titanic-related item was another letter, sold in April 2014 for 119,000 pounds.