---
Oklahoma Students Take SATs in Shadow of Teacher Strike
On This Site
Share This Page

---
Follow This Site

April 10, 2018
Many Oklahoma students had to report to school even though their teachers were on strike. Why? It was SAT day.
The state's two largest school districts, Oklahoma and Tulsa, opened their doors so that high school juniors by the hundreds could take the Student Achievement Test on the day on which it was scheduled. Many colleges and universities in the U.S. require students to submit their SAT results as part of the application process.
Schools provided meals to students taking the test, as well as bus transportation to and from school. Those schools were closed to other students, however. In all, about 500,000 of the state's 700,000 students are not attending school.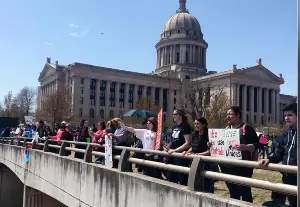 That's not the end of the testing, for those students or others, as the state Department of Education has extended by a week the window for state exams,. The Oklahoma School Testing Program, a federal requirement, began April 2; students in grades 3–8 are to take a series of tests, as are 11-graders, who must take science exams.
All of this occurred in the wake of the state's teachers going on strike in order to demand more money for themselves and their students. Schools, churches, community organizations, and food banks have come together to ensure that students would otherwise be gaining access to breakfast and lunch at school do not go hungry. As well, recreational departments have joined with churches and other community groups to arrange child care for students whose parents must work during the school day.
The teacher walkout entered its second week with yet another gathering at the statehouse in Oklahoma City. Legislators several days ago passed a $6,100 salary increase for teachers, but the teachers said that that wasn't enough and called for an increase of $10,000 and also urged much more funding for schools.
Social media has helped call attention to some of the teachers' concerns, with photos of broken chairs and crumbling textbooks garnering support online and elsewhere. In one case, a teacher who posted online a photo of a broken school chair received $44,000 in donations from across the country.