---
Painstaking, Edible Entries at Gingerbread House Competition
On This Site
Share This Page

---
Follow This Site

November 21, 2017
All told, the National Gingerbread House Competition had 170 entries, from 17 U.S. states and Canada.
It was the 25th such event, which takes place every ear in Asheville, N.C. Notable among the entries were some by previous grand prize winners.
Professional judges chose winners in four categories: child, youth, teen, and adult. Among the strict criteria were the requirements that entries must be at least 75 percent gingerbread and that all of an entry must be edible, including any base or adhesives. For some of the more complicated entries, that edibility requirement was a tall order. As well, all entries were notable for their attention to detail, which the creators assured the judges required hours and hours of painstaking work and dedication.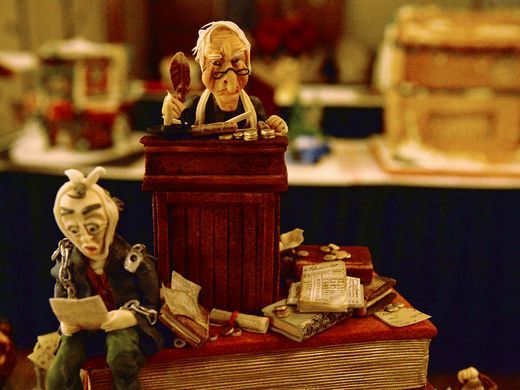 In the end, it was a Charles Dickens-inspired creation that took out the top prize. Ann Bailey, of nearby Cory, N.C., was the first place winner, with an entry titled "The Three Ghosts." It was Bailey's rendition of the Dickens favourite A Christmas Carol.
Winning the Child category was Raleigh, N.C.'s Coble Adams, with "Ginger Baker." Teen Gabriella Arthur, from Easley, S.C., won with "Family." And Mrs. Choi's class from Asheville, N.C., won for "The Dog Daze of School."
All entries will be on display at Asheville's Omni Grove Park Inn from Nov. 26 through Jan. 4, 2018.
The competition began as a small affair in 1992. Today, the competition appears regularly on the Food Network, the Travel Channel, and on ABC.