---
Intuit Campus Cafeteria to Employ Delivery Robot
On This Site
Share This Page

---
Follow This Site

April 30, 2018
Starship's robots will be rolling out in a big way soon.
The company is Starship Technologies, an autonomous delivery startup that began in 2014, the brainchild of Skype co-founders Janus Friis and Ahti Heinla.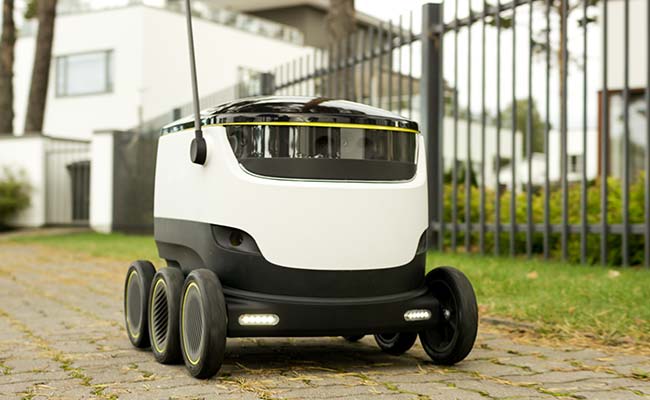 Hugging the ground and going no faster than 4 mph, the delivery robots are designed for suburban areas no more than 3 miles from point of origin. A system of proprietary maps, nine high-resolution cameras, and a 360-degree ultrasonic sensor array power the guidance system; LED lights advertise the presence of the bot on suburban sidewalks.
The person for whom the delivery is intended will operate a smartphone app to accept delivery, at which point the robot will open, revealing what's being delivered. Once delivery is complete, the bot will roll itself back to where it began its mechanized journey.
The company has tested the robots in public places, on a limited basis, in 20 countries for the past few years. Now, Intuit, a Silicon Valley company, will employ a Starship robot to deliver meals from the company's staff cafeteria to a point elsewhere on the campus.
The company is also in the final stages of trialling in San Jose, Calif., and in a suburb of the United Kingdom city of Milton Keynes. The company made its first delivery via online takeaway company Just Eat from a Turkish restaurant, in 2017 in London.
The maximum delivery load is 20 pounds. The expected delivery fee is between $1 and $3.
Starship officials have confirmed that initial deliveries will be shadowed by human observers.